Skippyjon Jones
Shape Up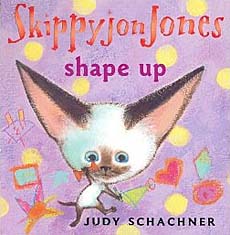 by Judy Schachner
This board book would make a fun very early introduction to shapes. The pages are simple with minimal text, but fans of the energetic little Skippyjon will enjoy watching him tap dance, balance, skip, and fly around different shapes.

This title isn't our first pick for teaching as it is quite simple, but preschools and parents of Preschool age children will likely find this book on shapes for kids just right for their children.

Interest level for this book:  Preschool - Kindergarten


Below are some sample pages from inside this book:



Where to now?
Now that you've seen this great book, what would you like to see now?  Please note that as an Amazon Associate, we earn from qualifying purchases.

---
You may also want to check out other books in the Skippyjon Jones series. To learn more about the books in this series, click the images below or link above.