Skeleton Hiccups
by Margery Cuyler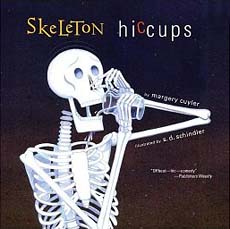 by Margery Cuyler; illustrated by SD Schindler
What is a poor skeleton to do when he can't kick the hiccups? Maybe his friend ghost can help. This is book is less about Halloween than about hiccups, but since kids can relate to having hiccups, they get a real kick out of a skeleton in this predicament!  Publisher's Weekly called this book an "offbeat-hic-comedy". We agree. Don't be turned off by how simple the premise is. The kids think it's so preposterous it's hilarious. :)

Skeleton Hiccups Reading Levels

Interest Level:    Preschool - Grade 2
Grade Level Equivalent:   1.5  (1st grade, 5th month)
Guided Reading Level:   G 
D.R.A. Level:   11-12
Lexile Measure:   330L                    


Below are the first two spreads from inside this book. As you can see, the text and concept are really quite simple, but the kids do get a kick out of it.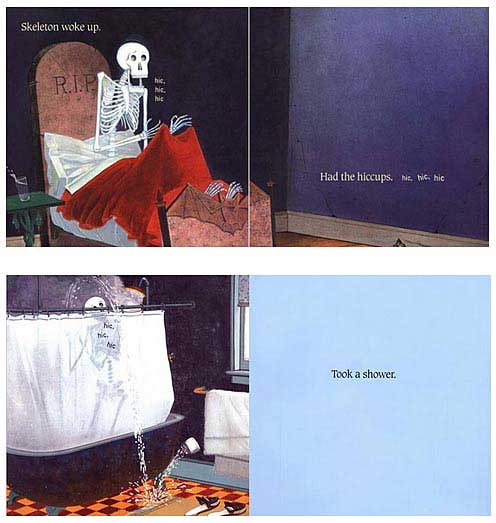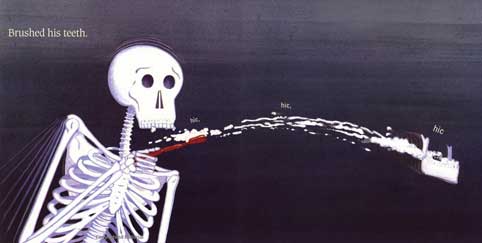 Activity Idea for Skeleton Hiccups
Each Halloween season, we read this book aloud to our class, talk about the different ways to get rid of hiccups, and then do this cute cute skeleton activity that we found on teacher Cara Carroll's blog The First Grade Parade. You can find it here: Skeleton Hiccups activity

We add a spine in there (if you do this, be sure to provide smaller q-tips for the ribs--we just cut some in half ahead of time.)  Then we use the opportunity to teach about the bones of the body. 
Then we use the writing prompt:  "To get rid of the hiccups, I think the skeleton should...."

Where to now?
Now that you've seen this great book, what would you like to see now?  Please note that as an Amazon Associate, we earn from qualifying purchases.