Sir Cumference

and the Sword in the Cone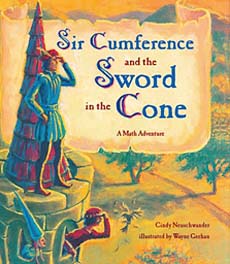 by Cindy Neuschwander
illustrated by Wayne Geehan
A Sword in the Stone retelling, with a mathematical slant. King Arthur has promised that the first knight to find Edgecalibur the Sword will be the next king.  In taking up the challenge, the family discovers the secrets of cylinders, cubes, cones, and pyramids. Illustrations include details to help solve the mystery.

This book would be most helpful for students who are already a little bit familiar with cones, cylinders, cubes, and pyramids so that they can apply their knowledge and have an incentive to try and solve the riddle before or along with the characters.


Reading Levels
Interest Level: Gr. 2-7               DRA Level:  40                  Lexile Measure:  630L
Grade Level Equiv:  4.2          Guided Rdg Level:  Q


See Inside
Below are sample spreads from inside the book: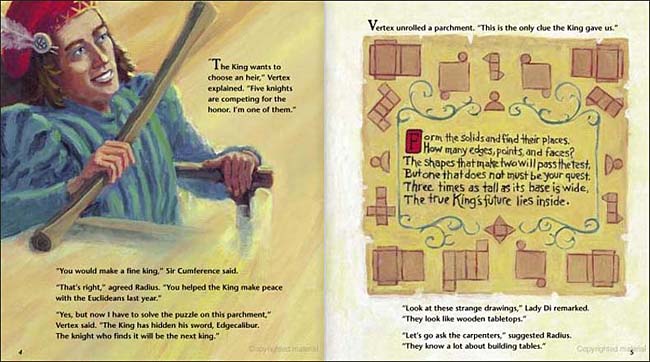 ---
There are lots more Sir Cumference books available! We think Sir Cumference books are fun, engaging resources for teaching different geometry topics to kids!  To learn more about them, click on the book covers below or on the link above.