Show Way
by Jacqueline Woodson
written by Jacqueline Woodson
illustrated by Hudson Talbott
Show Way is a very special book about the author's own family history is beautifully told and accompanied by stunning illustrations. 
The story follows the women in Woodson's family tree, from the women who lived many generations ago through slavery and the Civil War, to the women who experienced emancipation and early freedom, right up to the woman who lived through the Civil Right movement and raised the woman who wrote this book. Together, it makes for a moving story that's both tragic and inspirational.
Every part is gloriously illustrated in vibrant colors and designed around the motif of a quilt (a 'show way' was a special quilt design that was used at the time of the Underground Railroad to help runaway slaves know which way to go to reach freedom.) 

As much of the book focuses on the first few generations' lives in slavery and contribution to the Underground Railroad, this book would make an excellent addition to American History units on slavery and the Civil War. 
School Library Journal and Booklist both gave this book a starred review. Booklist called the book "a must for the classroom" and promises that it "will move many readers to explore their own family roots." And S.L.J. called it "an outstanding tribute, perfectly executed..."
Awards Won by this book
  - Newbery Honor 2006
  - American Library Association Notable Children's Book 2006
  - National Council for Social Studies Notable Children's Book 2006 
  - National Council of Teachers of English Notable Book 2006
Reading Levels for Show Way

Interest Level:  Grade 3-6           DRA Level: 24                   Lexile Measure: 720L
Grade Equivalent:  3.9               Guided Reading: M

See Inside Show Way

Here's a spread from this book, showing a slave family being torn apart. The child depicted is one of the generations of women highlighted in this book--all ancestors of the author.



This spread depicts the author's distant relative sitting by the fire at night listing to stories about freedom told by Big Mama, who raised her and the other parent-less children.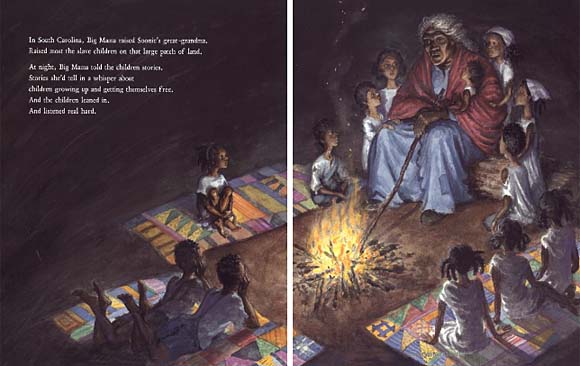 Show Way Lesson & Activity Ideas

Activity #1 -- Make Your Family Show Way 
(for teaching about the Underground Railroad)

The function of the 'show way' was originally to help runaway slaves reach freedom in the North. Over time, the show way also became a thread that bound together members of this family---a knowledge of the struggles and challenges that were met and finally overcome, and a way that one generation can pass on something to strengthen the next generation as they face their own challenges.

Woodson's story is certainly a unique and powerful one, but each one of us has ancestors that have likewise met challenges and learned things throughout their lives that they would like to pass on to their posterity. Have your students make their own family 'Show Way' composed of the advice of their older family members--something that they can look to like the characters in this book looked to their family show way.  Here's how to do it:
Step 1:  Advice Questions: Have students ask four family adults (mom, great grandmother, grandfather, uncle...) two questions. 

(1) If you had to pick one short piece of advice to pass on to your posterity, what would it be?
(2) What main experience in your life taught you this?  We have a questionnaire for you to use.
Step 2: Make a Family Show Way
Once students have the completed questionnaires, have them create a 'family show way'.  We have created a grid to handout to your students.

You can access the grid handout here.  In each square, the student writes the family member's advice on the longer line and the person's name below it (Mom, Grandpa J, etc...)  In the empty space, the students draws a representative picture of the advice OR the experience that led the person to get that advice.

Note: Remind the student that they are making quilt squares so they will have to draw more abstractly, since it would be hard to sew a very detailed drawing.
Activity #2 -- Seeing the Whole Struggle
(for when teaching about the Civil Rights era)
When studying the Civil Rights era, it's important to convey to students that this is not something that happened during a few decades of the mid-20th century. Students need to understand:

(1) the struggle for freedom and equality took many generations
(2) African-Americans have made tremendous advances despite discrimination and hardships

This book--and the story of Jacqueline Woodson's family--does an excellent job of conveying both of these important concepts. Read this book to your class and then review the experiences of each individual woman with your class.

inside Show Way
Project the last spread on your board (shown above). If you have an ELMO, that would be ideal for this. Then draw lines from each individual woman (in the projected image on the board) and write their individual circumstances. The point of this exercise is to show the advances that were made over many generations--leading up to the Civil Rights era and beyond.
Soonie's Great-Gr.--slave sold away from her family   

Soonie's Grandma--slave sold away from her family, husband died during Civil War   
Soonie's Mother--freed slave
Soonie--free sharecropper   
Georgina--learns to read
Caroline & Ann--grew up during the Civil Rights movement
Author--a successful published author!
Author's baby--the future!! :)
Where to now?
Now that you've seen this great book, what would you like to see now?  Please note that as an Amazon Associate, we earn from qualifying purchases.

---
This is a great book, but if it's not exactly the book you are looking for, you can see: