Shh! We're Writing
the Constitution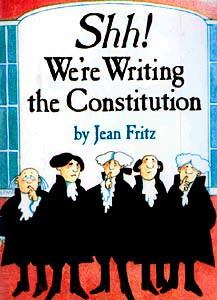 by Jean Fritz
illustrated by Tomie DePaola
This engaging account of the 1787 Constitutional Convention shows how the Constitution came to be written and ratified. Interspersed within the facts are fun tidbits that bring key people and events to life. What makes this book a stand out is Fritz's ability to simplify without condescending." (School Library Journal)

Then, you add in illustrations by Tomie DePaola, and this is truly a stand out!!
DePaola "has selected situations that have great child appeal [and]... add a further touch of good humor to the proceedings, particularly the sourpuss expressions on some of the founding fathers." (School Library Journal)
An American Library Association Notable Children's Book!


Reading Levels
Interest Level: Gr. 3-6                 DRA Level:  50                  Lexile Measure: 950L
Grade Level Equiv:  4.7             Guided Reading:  T


See inside
Here are pages from inside this book showing the amount of text in the book and how DePaola's illustrations help explain key components of the Constitution. To see larger version of the first two spreads below, just click on the image.