Sector 7
by David Wiesner

We LOVE this book!!!!  Sector 7 tells the story of a young boy who discovers that New York City's Empire State Building is actually a gateway to a big 'cloud factory' in the sky -- specifically the factory that produces clouds for 'sector 7' of the earth's surface which happens to be the northeastern portion of the US.

Wiesner's books are always so full of the unexpected! His fascinating alternate worlds make you want to jump inside the book and experience that world firsthand.

And in this title, his watercolor illustrations are characteristically brilliant! Kids will want to pour over the details. This would be a fun read any time of the year, but it would be extra fitting during units on weather and clouds (ie: in your introductory lesson before talking about where clouds really come from.)


Interest Level: all ages  (wordless)

Awards Won

  - Caldecott Honor 2000
  - American Library Association Notable Children's Book
  - Horn Book Fanfare Outstanding Books of the Year
  - New York Times Notable Books of the Year
  - Publisher's Weekly Children's Book Editor's List
  - School Library Journal Best Books of the Year
See Inside Sector 7

Below are a few pages from inside this fabulous book. These illustrations occur early in the book and show the boy traveling to the top of the Empire State Building with his class, then being surrounded by clouds and eventually whisked off to the big 'cloud factory' in the sky. The illustrations are fabulous---so creative, so vintage David Wiesner. This is yet another book that shows how powerful and fun wordless picture books can be!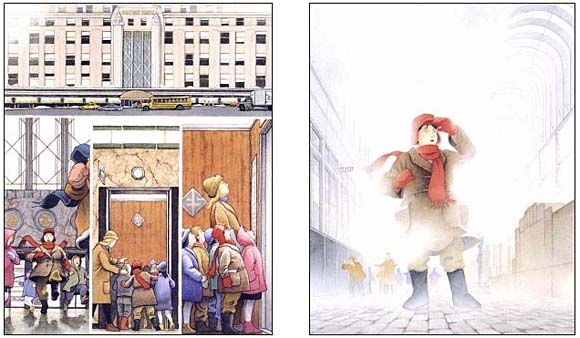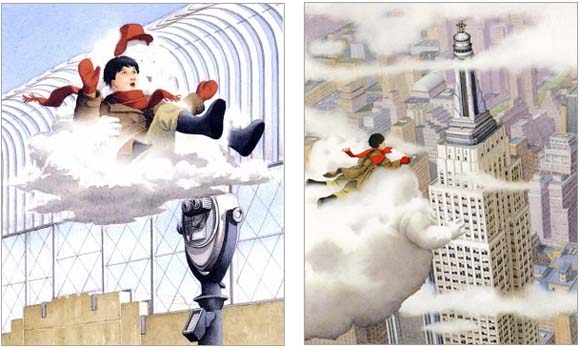 ---
This is a great book, but if it's not exactly the book you are looking for, you can see:
More of David Wiesner's unforgettable books!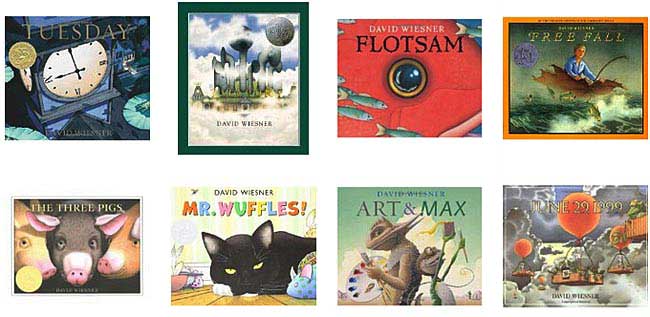 Other great children's books about weather