Rudy Rides the Rails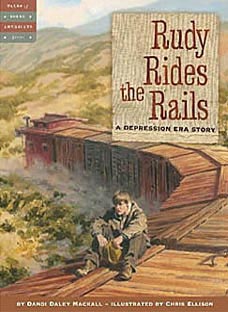 Rudy Rides the Rails:
A Depression Era Story
by Dandi Daley Mackall
illustrated by Chris Ellison

 In this picture book set during the Great Depression, teen-aged Rudy 'rides the rails', looking for work. En route, he meets other travelers and generous towns- people and slowly begins to doubt his father's advice to "look out for you and yours, and nobody else."


Realistic illustrations bring the era to life, and we love the Hobo Glossary in the back of the book!  This would make "a wonderful addition to the study of the Great Depression."(School Library Journal)
This book was a National Council for Social Studies Notable Book for 2008!


Interest Level:   Grades 3-6


Below are sample spreads from inside this book.  To see larger versions of these spreads, simply click on the images or click here.
Where to now?
Now that you've seen this great book, what would you like to see now?  Please note that as an Amazon Associate, we earn from qualifying purchases.