Rosie's Roses

by Pamela Duncan Edwards and illustrated by Henry Cole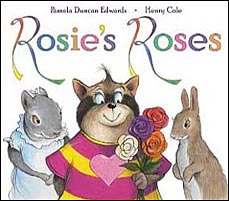 Rosie the Raccoon and her brother Robert are off to deliver a present to their Aunt Ruth---four roses tied with a rainbow ribbon. But en route, the roses keep disappearing! Each time, Rosie and Robert discover that an r-named animal (rat, robin, rabbit) had snuck off with one of the roses to cheer up their loved ones or themselves. Will they make it to Aunt Ruth's house before all the roses are gone?
Like her other books, Edwards has written a lighthearted alliterative tale, this one focusing on the letter R.  Accompanying illustrations by Henry Cole are charming and, in our opinion, have a very Disney look about them. This cute book is a nice choice for teaching the letter R.

Interest Level:   Kindergarten - 1st grade

See Inside This Book

Here are two pages from inside this book---showing the illustration style and amount of text. In these pictures, Rosie and her brother peak into a rat's den at a rat that has just stolen one of Rosie's roses. When Rosie sees how happy the rose makes the rat, she feels better about him keeping it.



Please note that if you purchase an item from Amazon, they give us a small referral fee. And that helps us cover the costs of this website.


---