Quirky, Jerky, Extra Perky:
More About Adjectives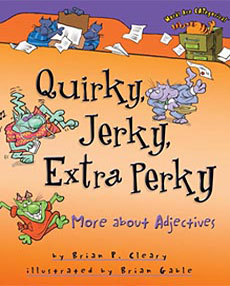 Quirky, Jerky, Extra Perky: More About Adjectives (Words are CATegorical)
written by Brian Cleary
illustrated by Brian Gable

If you've used Hairy, Scary, Ordinary for teaching about adjectives and feel a bit more crazy cat antics could help your students better understand this part of speech...then snatch up this equally educational but zany sequel. It's full of additional examples and additional fun!


"Cleary offers more examples of the descriptive words in this upbeat, energetically illustrated book." (Booklist) "The illustrations are colorful, silly, and bright." (SLJ)

Interest Level:       2nd grade - 4th grade


Inside this book:
Below is the first spread in the book.  As you can see, the text jumps right into providing examples of adjectives. The first book about adjectives provides more of an introduction, whereas this one more of a continuation.  Thus, this title is best as a follow-up title to the first book, used to deepen your students understanding of what adjectives are.



Please note that if you purchase an item from Amazon, they give us a small referral fee. And that helps us cover the costs of this website.


---