Princess Prunella and the
Purple Peanut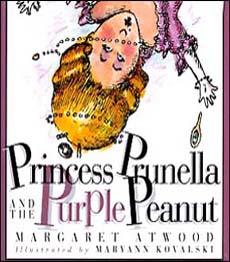 by Margaret Atwood
illustrated by Maryann Kovalski
Princess Prunella is a prissy princess who is going to marry a pinheaded prince just because he will praise and pamper her. But when a wise woman puts a spell on her, a purple peanut grows from her nose and doesn't go away until she learns to be less selfish and spoiled.

Atwood has played on the traditional Princess and the Pea story in this fractured fairy tale, and has sprinkled little morals as well, like when the wise woman says to Prunella: "You are not pretty inside, just as I am not poor." 
If you are looking for a book emphasizing the letter P, you'd have a hard time finding one with more P alliteration!  (ie: "Princess Prunella lived in a pink palace with her pinheaded parents, Princess Patty and Prince Peter, her three plump pussycats, Patience, Prue and Pringle, and her puppy dog, Pug.") Sometimes it seems a bit too much. I admit I found myself skipping over some 'p' adjectives here and there when reading this book aloud to students. However, they were clearly engaged in the story, so perhaps it was just me that was overwhelmed by too many 'p's.

Publisher's Weekly wrote: "A particularly pleasing read-aloud, as Atwood's outrageous alliteration...proves irresistible. Perfectly peachy. " And Booklist said "Kids will enjoy this fractured fairy tale farce."


See Inside
Here are a few pages from inside the book to show Kovalski's highly detailed, line-and- watercolor illustrations which are clearly inspired by Marie Antoinette and her pampered Versaille life.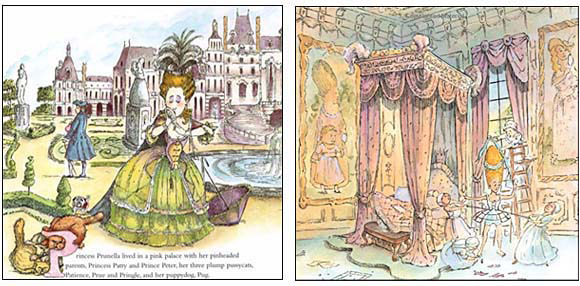 Where to now?
Now that you've seen this great book, what would you like to see now?  Please note that as an Amazon Associate, we earn from qualifying purchases.