Princess Pigtoria
and the Pea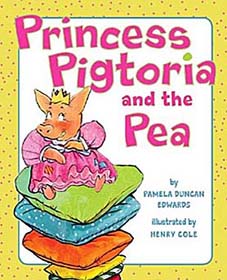 by Pamela Edwards
illustrated by Henry Cole
Poor Princess Pigtoria 's palace was a pigsty, with pealing paint and collapsing plaster. Without any pennies to fix it, she didn't know what to do--until she saw an ad placed by Prince Proudfoot looking for a princess. Perhaps if they married, the prince could make her palace pretty again.

Problem is, the prince is not polite and when she discovers that he put a pea under her pillows to see whether she really is a princess, she decides she "could never be partner with such a pompous prince." Luckily, she's met the pig of her dreams--a pizza delivery pig!
This is a fun book for teaching the letter P, but as with other books with a lot of alliteration, it does feel a bit much at times. Kids will find it fun though, along with Cole's cartoon illustrations. In its review, Booklist said: "Fun for listeners and readers alike, this features some extremely personable pigs...[A] good choice for storytime, and afterward kids will be spouting p words of their own."

Reading Level
Interest Level:  Pres - Gr. 3           DRA Level:   34                    Lexile:  AD770L
Grade Level Equiv:  3.7                Guided Reading:    O

See Inside
Here's a spread from inside the book to give you an idea of the cartoon style illustrations and the amount of text. This 'p' book is less wordy than Princess Prunella and the Purple Peanut (the other P book on our list) so it's probably more appropriate for younger children.  In this spread, the Princess finds the ad for a princess (left) and then heads out for Porksville to meet the prince (right).



Please note that if you purchase an item from Amazon, they give us a small referral fee. And that helps us cover the costs of this website.


---