Pony Express History
Children's Books

Below are action packed, engaging kids books on the pony express history, its riders, and its legacy. What a fun subject to teach! Even though it didn't actually last very long (only about a year and half), the whole Pony Express operation -- especially the intrepid riders -- provides a vivid representation of the grit and determination required to carve out a new life on the American frontier.
Kids love learning about this part of American history (and you will too!)  Hopefully the books below are just the start of our list of children's books on Pony Express history and its riders.  We've had a hard time finding books for this list, but we'll 'keep the faith' and continue searching.


Kids Pony Express History Books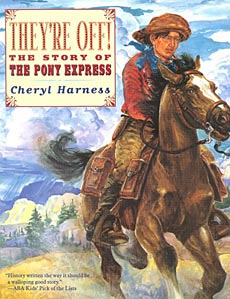 They're Off! The Story
of the Pony Express
(history of the pony express and
fabulous detailed illustrations)
by Cheryl Harness
3rd grade - 5th grade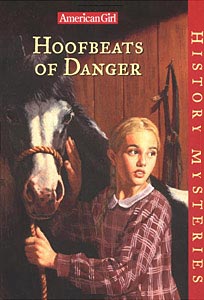 Hoofbeats of Danger
(an American Girl 'History
Mysteries' series book set at a
stop along the pony express)
by Holly Hughes
3rd grade - 6th grade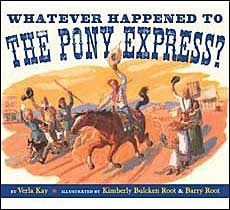 Whatever Happened to
the Pony Express?
(short, rhythmic verses pack in
loads of details on the Pony Express)
by Verla Kay
1st grade - 4th grade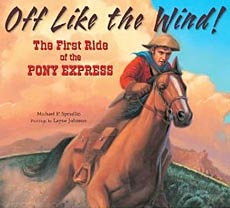 Off Like the Wind! The First
Ride of the Pony Express
(A dramatic account of the
dangers they experience en route)
by Michael Spradlin
3rd-5th grade

Riders of the Pony Express
(an interesting window into the fierce
grit and hearty resolve of the riders)
by Ralph Moody
7th grade & Up

We're working on expanding this list, including adding:
   - Black Storm Comin' by Diane Lee Wilson
   - The Sweetwater Run: The Story of Buffalo Bill Cody and the Pony Express
      by Andres Glass
   - Wanted: A Few Bold Riders by Darice Bailer
   - Pony Express by Steven Kroll and Dan Andreason


Until we have reviews for these books, you can learn more by clicking here.