Poetrees
by Dougas Florian
Full of Florian's trademark clever wordplay, Poetrees is a collection of 18 poems and illustrations that celebrate all that is wonderful about trees. Befitting such a tall topic, each poem and illustration is printed on a vertical double page spread.
And, of course, each spread features Florian's mixed- media dazzlers. Includes an informative 'glossatree' at the back. This is a great cross-curricular title, interjecting language arts into your plant lesson plans.
Interest level for this book:   Grades 2 - 6
See Inside Poetrees

Below are sample spreads from inside this book. Great illustrations!  The poem for each spread (shown sideways) is printed to the left of the illustration, since you probably can't read it in our small samples.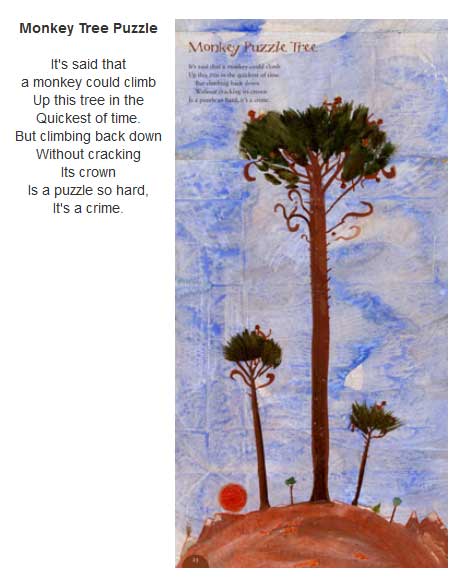 Where to now?
Now that you've seen this great book, what would you like to see now?  Please note that as an Amazon Associate, we earn from qualifying purchases.

---
This is a great book, but if it's not exactly the book you are looking for, you can see:

You may also want to check out other books by Douglas Florian, such as those shown below: