Pastry School in Paris

An Adventure in Capacity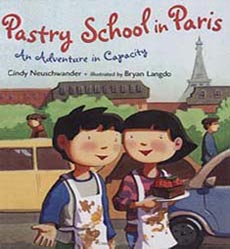 by Cindy Neuschwander
The twins are back for another math adventure! While in Paris, Matt and Bibi visit the pastry academy Les Jumelles Coccinelle, and are put in charge of liquids.
Children will enjoy the slapstick culinary adventures and will also get a lesson on American standard and metric liquid measurement. Langdo's charming, bright watercolor illustrations help keep the overall tone light and fun.
School Library Journal  ended its review by saying "this title will be most useful as a supplemental, more literacy- focused addition to capacity measurement units." (Note: We haven't yet used this book in measurement lesson plans. Have you? How did it go?)

Interest Level    1st grade - 3rd grade


Peek Inside    Below are sample pages from inside the book.