Pass the Energy, Please!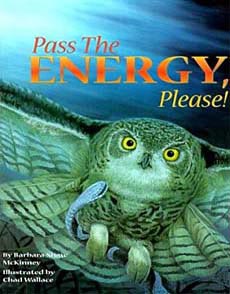 by Barbara Shaw McKinney
illustrated by Chad Wallace
A beautifully illustrated picture book about food chains and food webs. 'Links' are shown in different environments (woodland, arctic, savannah, meadow), each presented in rhyming couplets and paired with one of Wallace's beautiful illustrations.

We are mixed on this one, as are review agencies. Amazon readers give it 5 stars, but we agree with School Library Journal that the "couplets are frequently sketchy or vague." This title did win awards and we know of teachers who use it to teach food chains/food webs in the classroom. Therefore, we've included it on this list to let you decide for yourself. Also, due to the more advanced topics in this title as compared to others on the subject (ie: decomposers), we'd adjusted the interest level up a bit higher than the publishers stated interest level.

* This book received the Skipping Stones Magazine Honor in 2001.
Reading Levels for Pass the Energy Please

Interest Level:  Grades 2-5                  Lexile Measure: 1010L
Grade Equivalent: 5.4                          Guided Reading or DRA: ? 
See Inside This Book

Below are sample spreads from inside this book.  Sorry if the text is too small to read. We made them as large as would fit. :)  To read the text, click on the Amazon link below, and then click on the "look inside" feature on that site.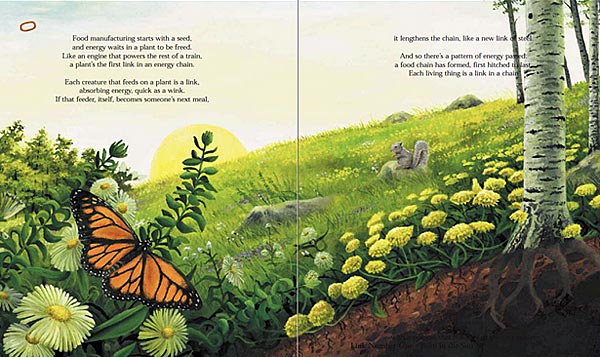 Please note that if you purchase an item from Amazon, they give us a small referral fee. And that helps us cover the costs of this website.


---