Orphan Train stories

for children and young adults
The orphan train era of American history is not widely known... but should be!  It's an absolutely fascinating part of the history of our nation. The personal stories of orphan train riders are often hard to comprehend, sometimes uplifting, but more often than not, absolutely heartbreaking!  Some children found loving homes and new lives, but too many found only more hardship and trials. (If this is the first you are hearing about orphan trains, there's a summary at the bottom of this page.)
The whole orphan train operation was an enormous undertaking and a social experiment. Thankfully, it did not last long!  Some of the books below are for big kids (and adults), but a few are for children. Needless to say, this topic must be handled with care, as it could be somewhat frightening for children to learn about.

Regardless of age level, these books do an excellent job of capturing the experience and are great for supplementing US history units. For books on other aspects of the American frontier, return to the American History books page.


Best Orphan Train Stories for Kids

(click title for more details)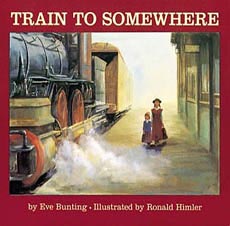 Train to Somewhere
(historical fiction picture book)
by Eve Bunting
2nd grade - 4th grade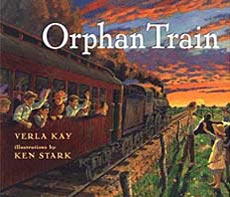 Orphan Train
(rhythmic non-fiction picture book)
by Verla Kay
2nd grade - 4th grade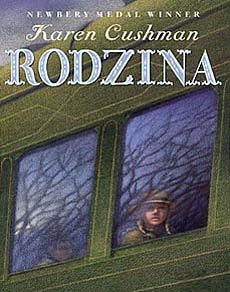 Rodzina 
(Newbery winner -- historical fiction)
by Karen Cushman
5th grade - 9th grade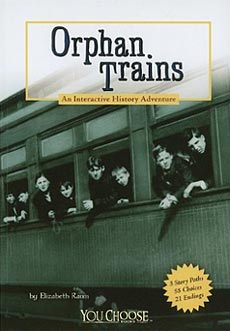 Orphan Trains
("You Choose" format --
Interactive History Adventure)
by Elizabeth Raum
3rd grade - 4th grade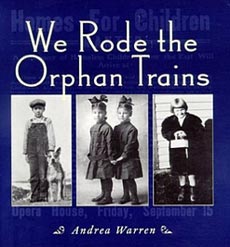 We Rode the Orphan Trains
(non-fiction introduction to the era)
by Andrea Warren
4th grade - 8th grade
Orphan Train Rider
One Boy's True Story
by Andrea Warren
4th grade - 8th grade

Also, there's a FABULOUS historical fiction book for grown-ups about the orphan trains. It's called Orphan Train and it's written by Christina Baker Kline. We both just finished reading it and LOVED it!  Check it out. :)


In case you've never heard about the Orphan Trains...
In New York City in the 1850s, tens of thousands of children were homeless and even more lived in slums in destitute conditions. Orphanages were overflowing and city officials were looking for solutions. An organization called the Children's Aid Society stepped forward with an idea -- send the children out west to be adopted by willing and "morally upright farm families" who would be gladly looking for 'another pair of hands' to help with farm chores and child rearing.  The plan was accepted and launched in 1853.

For the next 50 years, more than 120,000 children were loaded onto trains and send out west to different states (45 in total + Canada and Mexico!), stopping at train stops for residents to look them over and decide if they were appropriate for "placement."  Some placements ended happily, with children warmly accepted and adopted into their new families. Some, however, resulted in very poor conditions, including abuse and near indentured servitude. Their compelling stories provide a window into the historical, social and culture mores of the era.