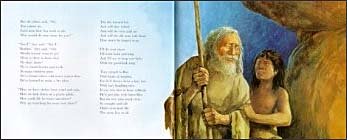 One Small Blue Bead

by Byrd Baylor & Ronald Himler
A simple but powerful picture book set among a tribe of prehistoric people. When a boy dreams of other people, an old man decides to go on a journey to see if other humans exist. More than just a look at prehistoric people, this book powerfully speaks about self-sacrifice and the interconnectedness of humanity across time.


Reading Levels
Interest Level:  K-Gr. 2                     DRA Level:  24      
Grade Level Equiv:  4.9                  Guided Reading:  M


See inside
Below are sample pages from inside this book.  It's older, so it's sort of dated. We don't love the illustrations, but we do love the story!




---