Olivia Counts
by Ian Falconer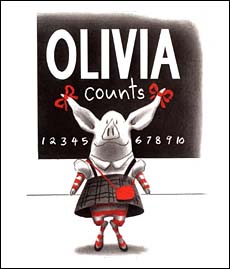 Ian Falconer's adorable, spunky pig Olivia is back and as energetic as ever, this time in a simple but darling title for teaching numbers one through 10. The text is minimal, letting the illustrations take center stage.
This book is a fun choice for fans of the Olivia series or very young kids learning numbers and counting. While this isn't one of our favorites in the series, it's still quite winning and a perfect pick for very young children just learning numbers 1-10.

Awards Won
   * Child Magazine Guide to Top Books
   * Parenting Magazine Best Books of the Year


Interest Levels        Preschool - Kindergarten


Peek Inside
Sample pages from inside Olivia Counts.  As you can see, the text is sparse, but if you are fan of darling little Olivia, you'll want to check out this cute title!

Lesson Idea
There's a fun Olivia Counts game board online at the publisher's site. The suggested game is a bit different, but we use the game as a counting/number recognition game (ie: make simple cards with numbers on it, then have kids move Olivia that number of spaces). The game board is about half way through the document at this link.




Please note that if you purchase an item from Amazon, they give us a small referral fee.



---
This adorable book was so instantly popular that it spawned a whole series of books featuring Olivia the spunky little pig. Check the out....she's one of a kind! Click to learn more about Olivia books by Ian Falconer.


---