Oh Say, Can You Seed?
All About Flowering Plants
Oh Say, Can You Seed? All About Flowering Plants
The Cat in the Hat Learning Library
by Bonnie Worth; illustrated by Aristides Ruiz

This fun book on plants for kids is bursting with Seussian fun, including bouncy rhyming text and zany, vibrant illustrations. Readers learn about parts of plants, seeds, and flowers as well as a kid-friendly dose of photosynthesis and pollination.
The book is narrated by the Cat in the Hat, with lots of help from Thing 1 and Thing 2. It's part of a series called "The Cat in the Hat Learning Library". In general, the books in this series aren't quite as clever as the original Seuss creations, but they are silly and fun and packed full of interesting facts.  Just perfect for teaching!

Reading Levels
Interest Level:          Kindergarten-Grade 3
Grade Equivalent:    Level 2.7
Guided Reading:      Level M
DRA Level:               Level 24
Lexile Measure:       530L

Below are sample spreads from inside Oh Say, Can You Seed? All About Flowering Plants.  We love this series!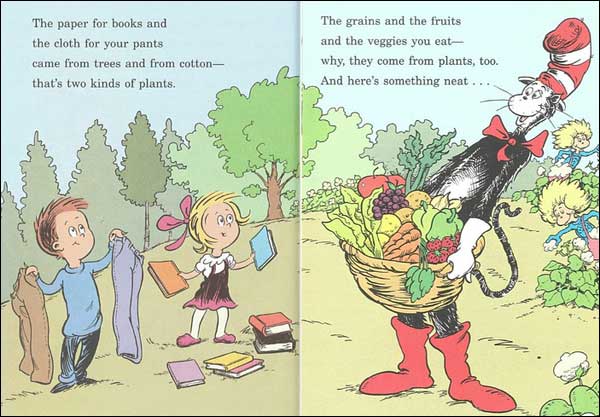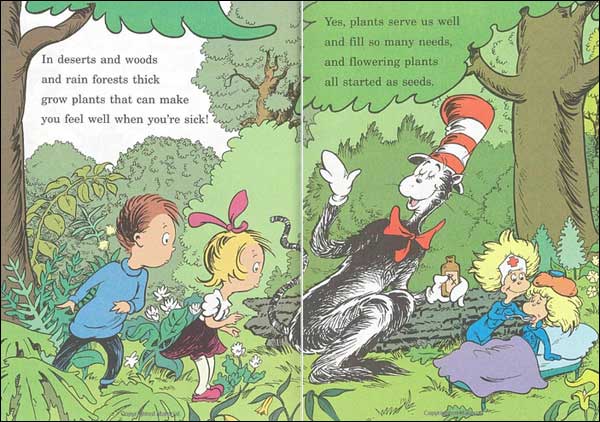 Where to now?
Now that you've seen this great book, what would you like to see now?  Please note that as an Amazon Associate, we earn from qualifying purchases.
You may also want to check out other books in the Cat in the Hat Learning Library, such as those shown below. To learn more, click on the images below or here.  :)