Nothing Like a Puffin

by Sue Soltis & Bob Kolar
This cute book is talks about how there's nothing like a puffin, and yet (spoiler alert) every item that is compared to a puffin does actually have something in common.  (ie: "There's nothing like a puffin. Or is there?  A newspaper, to be sure, is nothing like a puffin. A newspaper is shaped like a rectangle and made out of paper. A newspaper has pages. It's black and white. But wait--- A puffin is black and white, too! What are the chances? A newspaper is something like a puffin, after all.") In the end, readers learn that actually--contrary to the premise of this book--there are things that are like a puffin.  :)
You won't learn a lot of hard scientific facts about puffins in this book, but it is a good, cute, age-appropriate first introduction to this little-known bird (at least with little ones).

And...this book is also great for teaching early lessons on compare/contrast or classification.

Interest Level:    Preschool - 1st grade


Awards won:
  - Junior Library Guild Selection
  - Charlotte Zolotow Highly Commended Title
  - Chickadee Award Nominee (The Maine Children's Choice Book Project)
  - University of Wisconsin CCBC Choices 2012 Book


Peek inside:  Below are sample pages from inside this book: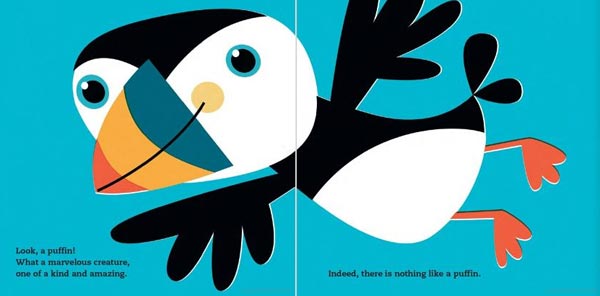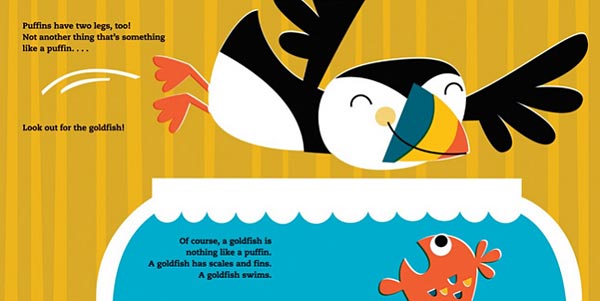 return to books on arctic animals

Enjoy the books!
Betsy, Cindy, and Virginia (the teachers/sisters behind this website)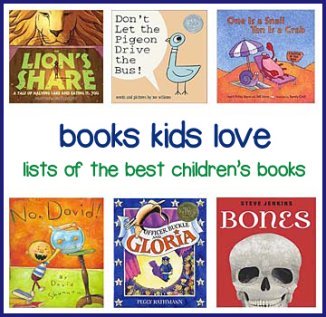 Enjoy our Facebook Feed Here