My Friend Rabbit

by Eric Rohmann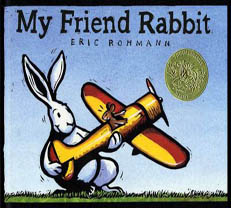 Mouse and Rabbit are friends, but when Rabbit is around, trouble is never far away! When Mouse reluctantly lets Rabbit play with his new airplane, it's not long before the plane is stuck in a tree. To get it down, Rabbit recruits animals to build an 'animal tower'...to comic ends.

This title teaches a "gentle lesson in patience and loyalty" (Publisher's Weekly), but it's the illustrations that make this book so memorable. Rohmann's energetic, humorous illustrations are vibrantly colored and heavily outlined in black. The look is kid-friendly but also bold and striking. In addition to reading it for the pure fun of it, we also use it as a discussion starter for talking about friendship and how good friends have patience with each other and forgive each other's mistakes.
This book won the Caldecott Medal in 2003!


Reading Levels
Interest Level: PreS-Gr. 1           DRA Level:  14                  Lexile Measure: BR
Grade Level Equiv: 2.3              Guided Reading:  H


See inside
Below are two spreads from inside My Friend Rabbit. The first spread takes place at the beginning of the book, when Mouse has a new toy airplane and his friend Rabbit is there to help him play with it. Unfortunately, things tend to go badly when Rabbit is around.




And this spread shows the chaos that ensues when the animal tower gets too tall.


Where to now?
Now that you've seen this great book, what would you like to see now?  Please note that as an Amazon Associate, we earn from qualifying purchases.

---

We love Eric Rohmann's books, especially Time Flies and My Friend Rabbit!  To learn more about his books, click the images below or:  Eric Rohmann books