My Five Senses

by Aliki

We learn about the world around us through our five senses, but what are they exactly and what can you learn through them? 
Popular author/illustrator Aliki provides just the right amount of information for the audience and gets readers involved by posing scenarios to help kids experience and understand their senses firsthand.
We like how Aliki introduces the concept of body awareness and how a primary function of our senses is to help us be aware of what's going on around us.

That's the focus of this Let's Read and Find Out Science title.


Reading Levels
Interest Level:  K-Gr. 2          DRA Level: 14                 Lexile Measure: AD590L
Grade Equivalent: 2.0          Guided Reading: H


See inside
Here are sample pages from inside this book. There is a spread like the one below for each of the five senses (ie: "I can see. I see with my eyes." or "I can hear. I hear with my ears.")



The book also includes this chart which shows different items and how they are sensed by the human body (ie: you see the sun, you taste an ice cream cone, you touch an ice cube.) Of course, since most of these items can also be sensed by other senses (ie: in addition to seeing the sun, you can also feel its warmth), this chart can be extended into a classroom discussion. (ie: "You can taste an ice cream cone. What other senses are involved when you have an ice cream cone?" or "You can see the moon, but can you smell it?  Touch it?...")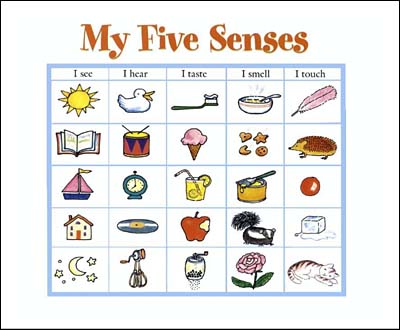 Or, to learn more about this particular book, click the link below to visit this bookpage on Amazon.com.  Please note that if you purchase an item from Amazon, they give us a small referral fee. (This helps pay for site hosting costs, thus allowing us to keep everything free for site visitors!)

---
Check out our whole list of the best children's books about the human body.



Or see a full list of the books in the popular science children's book series called "Let's Read and Find Out Science".



---