My Dog is as Smelly as Dirty Socks
and Other Funny Family Portraits
by Hanoch Piven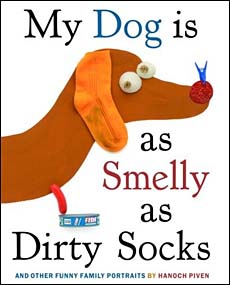 What it's about
Piven's books are fabulous and this book is another winner. In this title, a clever girl draws portraits of family members, then decides they don't show the family members' personalities. To remedy this, she makes re-creates the portraits using small 'found objects' that visually depict relevant similes about the person. For example, her mom has a lightbulb for a nose because she's "as bright as the brightest light". This book is a great inspiration piece for collage art projects and for teaching similes! In a starred review,

SLJ

rightly predicts that "younger children will enjoy the story, but older kids will love the nuances, the opportunity for individuality, and the challenge of portraying their own relatives in this style."
Reading levels
Interest Level: Gr. 2-6 DRA Level: n/a
Reading Level: age 4-8 Lexile Measure: n/a
Awards and Rating
Average Amazon Rating:
(5 reviews)




related activities / lessons






Sample spreads

from inside

My Dog is as Smelly as Dirty Socks

by Hanoch Piven:





The spreads above and at right are representative of how similes and small objects are used to create a portrait of a person.

For example, in the spread at right, the narrator has depicted her father who is "jumpy as a spring" (eyebrows), "as playful as a spinning top" (nose), "as fun as a party favor" (eye), and "sometimes he's as stubborn as a knot in a rope" (mouth).

***The page just prior to this one depicts the small items used in the portrait next to the corresponding simile.





Where to now?