Math Fables: Lessons That Count
written by Greg Tang
illustrated by Heather Cahoon

Math Fables presents short rhymed stories about the numbers 1-10 paired with vividly colored, computer generated double-page illustrations. In each spread, animals are shown together (ie: 5 racoons), and then are shown separated by the task described in the rhymed text (2 pulling a trash can down and 3 cheering). Thus, this title is also useful when teaching whole/ part. On a preface page, the author explains his goal in writing Math Fables was "to lay the foundation for place value" and as a "first step to building strong computational skills." (Math Fables)

Booklist ended their review by saying, "Like Tang's other books, this will engage children, who may not even realize they are learning."  And SLJ called it a "fine addition to math shelves."  Note: There is a sequel to this title called Math Fables Too!  If you like this title, be sure to check out that one! For more on Math Fables Too!, click the link above and look for it half way down the page (under 'Customers Who Bought This Item Also Bought.')

Book Details

Reading Stats
Interest Level: K-Gr.1        DRA Level :28
Reading Level: age 4-8      Lexile Measure: n/a

Topics Covered   
learning numbers, counting, place value basics,
part/whole and early addition


Peek Inside
Here's an interior spread from this book---to give you an idea of the illustration style as well as an idea of how the math is presented. In this spread, there are 10 beavers on the left hand side, and then in two different scenarios, they are divided into 7+3 and 9+1.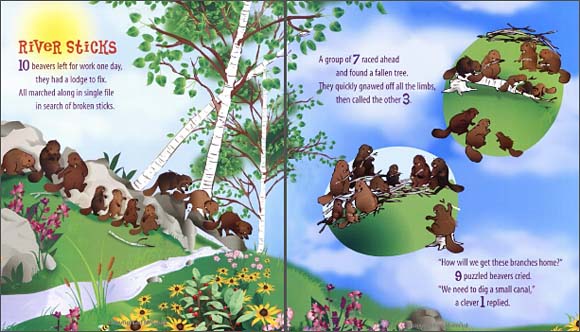 Where to now?
Now that you've seen this great book, what would you like to see now?  Please note that as an Amazon Associate, we earn from qualifying purchases.