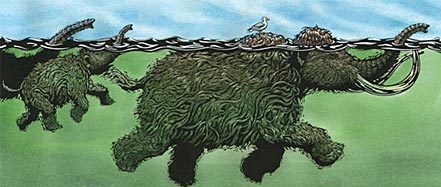 Mammoths on the Move
by Lisa Wheeler & Kurt Cyrus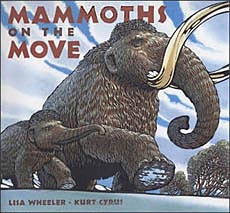 Mammoths on the Move is a child-friendly depiction of prehistoric woolly mammoth migrations, told in bouncy couplets and accompanied by stunning, highly textural illustrations.
Interesting tidbits of information about these extinct beasts are included in each of the rhymed verses, which are broken up by short refrains that keep the overall narrative from becoming too sing-songy.  :)  New words like permafrost and steppes will probably require a little explanation, but that's okay. We like that this book introduces a few new words while at the same time not introducing too many new words (which seems to happen all too often as well.)
The accompanying watercolor and scratch-board illustrations are truly striking. The strong lines and effective use of color create powerful scenes full of movement and texture. We realize that we say 'stunning' too often on this website to describe illustrations (we're trying to cut back), but we have to say it again. Stunning!  (Our little pictures won't do. They must be seen full size for the true magic!)

Reading Levels: 

Interest Level:  Grade 3-5   /   Grade Level Equivalent:  5.4   /   DRA Level:  50   /   Guided Reading:  U   /   Lexile Measure: 790L
Awards Won by Mammoths on the Move:  

  American Library Association Notable Children's Book 2007
  Parents Choice Recommended Children's Book Award
  Society of School Librarians International Honor Book
See Inside Mammoths on the Move

Here's a spread from inside this book---to give you an idea of the illustration style, the amount of text per page, and the rhyming text (ie: this page starts "They grazed on grass and arctic moss,/ that grew above the permafrost./ In family herds, they liked to dine / on tender herbs of summertime.) Additionally, although our small picture here is not as powerful as in actual size, this spread should give you an idea of the highly textural scratch-board and watercolor illustrations.