Living Sunlight

How Plants Bring the Earth to Life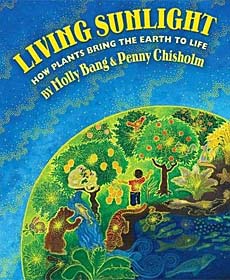 by Molly Bang
illustrated by Penny Chisholm
This title tackles a very complicated subject--- photo-synthesis---and largely succeeds. Narrated by the sun, the text explains what is happening at a molecular level and why it matters on a broad scale. Accompanying the text are Penny Chisolm's striking illustrations that "light up the pages and swirl across the page." (School Library Journal)

Booklist gave it a starred review and Amazon customers gave it 5 out of 5, but School Library Journal's review expressed a valid concern that some of the content is too difficult. We agree, so we've bumped up the recommended interest level (publisher recommends preschool - 3rd grade!) The book has so much to offer, but you'll definitely want to pre-read it to decide if some sections should be skipped.
Reading Levels

Interest Level:  Gr. 2-5            Grade Equivalent: 2.4               Lexile: AD610L
See Inside This Book

Below are sample spreads from inside this book. You can't totally tell from sour small versions here, but the pages have a great luminous quality.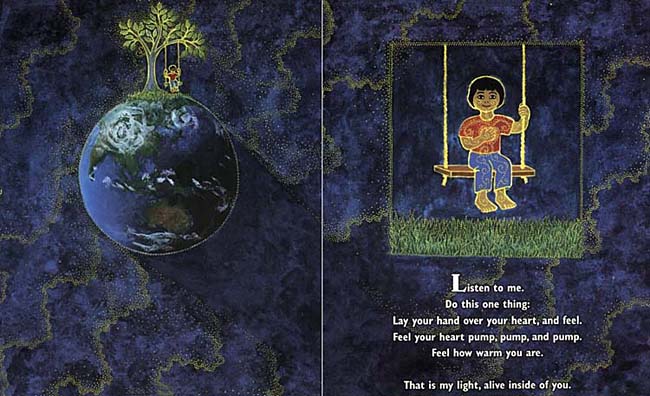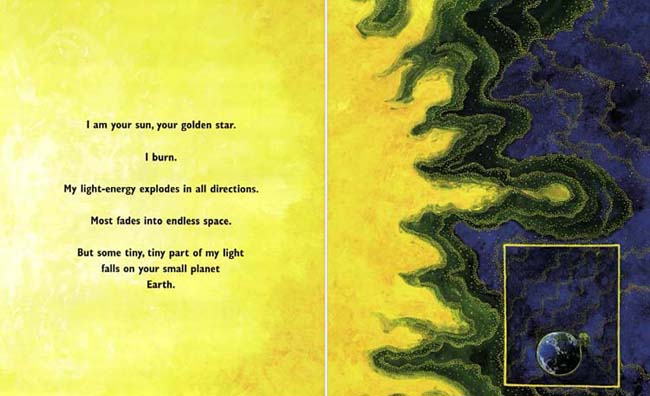 Where to now?
Now that you've seen this great book, what would you like to see now?  Please note that as an Amazon Associate, we earn from qualifying purchases.