Lives of the Pirates: Swashbucklers,
Scoundrels (Neighbors Beware!)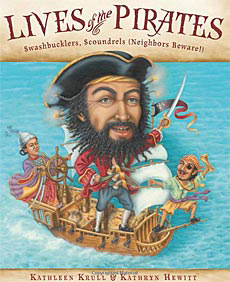 by Kathleen Krull; illustrated by Kathryn Hewitt
Lives of the Pirates provides short, readable biographies of 20 well-known pirates, including women! The end result is an entertaining mix of verified facts and fascinating rumors, and each account includes a funny caricature portrait by Kathryn Hewitt. Also features sections about recent hunts for buried pirate treasure and ships. 
School Library Journal called this book "a solid choice", saying that Krull "vividly presents these swashbucklers and scoundrels", creating "dramatic stories that will excite the imaginations of readers."
This book is just one of a series of great kids biography books by Kathleen Krull. 

Interest Level:   Grade 4 -Grade 7

Below are sample spreads from inside this book.

Where to now?
Now that you've seen this great book, what would you like to see now?  Please note that as an Amazon Associate, we earn from qualifying purchases.