Life on Earth

The Story of Evolution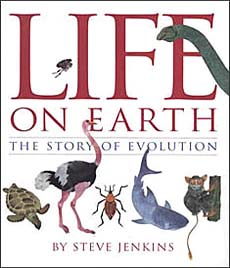 by Steve Jenkins
Stunning cut and torn paper collages fill the pages of this well written large-format introduction to evolution.
Jenkins poses and then answers questions on topics like survival of the fittest, mutation, and extinction-- challenging subjects to be sure, but Jenkins presents them "with a clarity that demonstrates his mindfulness of the audience." (Publisher's Weekly)
School Library Journal rightly called this book "a polished exposition of a difficult, often controversial scientific concept." And Publisher's Weekly ended its review by calling the book "science at its most inviting."


Reading Levels
Interest Level:  Grade 3-6           DRA Level: 40             Lexile Measure: 810L


See inside
Below are sample illustrations from inside this book. First is a small version of a tri-fold, then  'zoomed in' part of that tri-fold in an attempt to show you how fantastic they are.  But...you truly have to see them in large, book format to understand why they are so truly fantastic!


Where to now?
Now that you've seen this great book, what would you like to see now?  Please note that as an Amazon Associate, we earn from qualifying purchases.

---


You may also want to check out other books by Steve Jenkins, such as those shown below. To learn more, click on the book covers below or link above.