Civil War Books

Life During the Civil War, Soldier Stories...
Great children's books can really make life during the Civil War come to life. Children can't help but be drawn into the time period when reading these kid-friendly soldier's diaries, age appropriate explanations about the Civil War, and compelling stories about civilian life during the civil war. We especially like the fictional "soldier diaries" AND the stories of civilian life during the Civil War. Modern wars like Afghanistan and Iraq are in distant lands, and unless a student personally knows someone fighting in those wars, war really doesn't impact their lives at all. Based on their experience, students sometimes mistakenly assume that war is something that impacts only the soldiers. This was certainly not the case during the Civil War. Families were torn apart, towns were ravaged, people went without...
The following children's books depict soldier stories, background details, and a peek into civilian life during the Civil War. All of the, can be helpful in showing your students that this tragic war changed lives both on and off the field.


Best Civil War Kids Books

Civil War on Sunday
(Magic Tree House series)
by Mary Pope Osborne
1st grade - 4th grade

The Silent Witness
A True Story of the Civil War
by Robin Friedman
Kindergarten - 4th grade

The Last Brother
A Civil War Tale
by Trinka Hakes Noble
3rd grade - 6th grade

Seeing the Elephant
A Story of the Civil War
by Pat Hughes
3rd grade - 6th grade
Watcher in the
Piney Woods
(American Girl books)
by Elizabeth Jones
3rd grade - 5th grade

Nurse, Soldier, Spy
The Story of Sarah Edmonds,
a Civil War Hero
by Marissa Moss
3rd grade - 7th grade

Virginia's Civil War Diary 
(3 book series)
by Mary Pope Osborne
3rd grade - 5th grade
Corey's Underground
Railroad Diary 
by Sharon Dennis Wyeth
2nd grade - 5th grade

Gettysburg
A Day that Changed America
by Shelley Tanaka
4th grade - 6th grade
Iron Thunder
The Battle Between the Monitor
& the Merrimac  by Avi
4th grade - 8th grade

Pink and Say
by Patricia Polacco
4th grade - 8th grade
The Civil War for Kids
A History with Activities
by Janis Herbert
4th grade - 8th grade
A Savage Thunder
Antietam and the Bloody Road
to Freedom by Jim Murphy
4th grade - 8th grade
No Man's Land
A Young Soldier's Story
by Susan Bartoletti
4th grade - 8th grade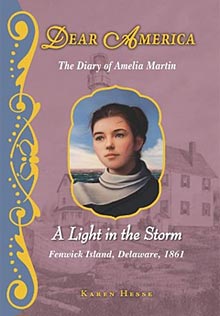 A Light in the Storm
The Civil War Diary
of Amelia Martin
by Karen Hesse
4th grade - 8th grade

The Mostly True
Adventures
of Homer P. Figg
by Rodman Philbrick
4th grade - 7th grade

Photo By Brady
A Picture of the Civil War
by Jennifer Armstrong
6th grade & Up

Fields of Fury
The American Civil War
by James McPherson
5th grade - 8th grade

The Journal of James
Edmond Pease
A Civil War Union Soldier
by Jim Murphy
5th grade & 8th grade

The War Within
A Novel of the Civil War
by Carol Matas
5th grade - 8th grade
Bull Run
by Paul Fleischman
5th grade & Up

Turn Homeward,
Hannalee
by Patricia Beatty
5th grade - 8th grade
Civil War A to Z
A Young Person's Guide to Over
100 People, Places, and Points
of Importance
4th grade - 8th grade

Charley Skedaddle
by Patricia Beatty
5th grade - 8th grade

Behind Rebel Lines
The Incredible Story of Emma
Edmonds, Civil War Spy
5th grade - 8th grade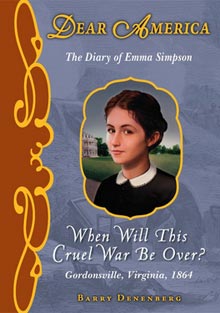 When Will This Cruel
War Be Over?
Civil War Diary of Emma Simpson
By Barry Denneberg
5th grade - 8th grade

The Brothers' War
Civil War Voices in Verse
by J. Patrick Lewis
5th grade - 9th grade

Dear Ellen Bee
A Civil War Scrapbook of
Two Union Spies
by Mary Lyons
5th grade - 8th grade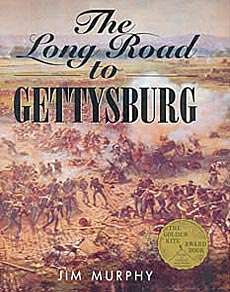 The Long Road to
Gettysburg
by Jim Murphy
6th grade & Up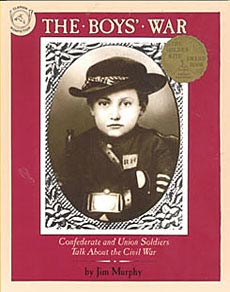 The Boys' War
Confederate and Union Soldiers
Tell About the Civil War
6th grade & Up
Under Siege!
Three Children at the Civil
War Battle for Vicksburg
by Andrea Warren
6th grade - 9th grade

Numbering All the Bones
by Ann Rinaldi
6th grade - 8th grade

Girl in Blue
by Ann Rinaldi
6th grade - 9th grade

The River Between Us
by Richard Peck
7th grade - 12th grade

Soldier's Heart
A Novel of the Civil War
by Gary Paulsen
7th grade & Up
Red Moon
at Sharpsburg
by Rosemary Wells
7th grade & Up