Less Than Zero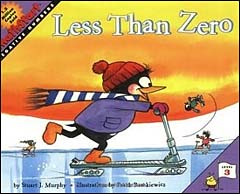 by Stuart Murphy
illustrated by Frank Remkiewicz
a MathStart series book

Penguin Perry wants an ice scooter, but needs nine clams he needs to buy one. He decides to do odd jobs to earn the money and uses a line graph to track his progress. Unfortunately, he seems to lose and spend as much as he earns!  Will Penguin Perry eventually earn enough? 
The main purpose of this Math Start story book is to help teach negative numbers, but since Penguin Perry graphs his progress toward his goal, this is also a helpful title for teaching graphing. Thus, while this is not one of our top picks for children's books about graphing, if you plan to teach negative numbers and graphing, this book will do double duty quite nicely!  And, as with all MathStart books, the final spread includes discussion points for your read aloud and extension activities about graphing and negative numbers.

Reading Levels
Interest Level: Grade 2-3          DRA Level: 28                   Lexile Level: 620L       
Grade Level Equiv: 2.6             Guided Reading: M

See Inside
Below are sample spreads from inside this book--showing the very cute illustration style, the general amount of text per page, and the graphing focus in the book. To see larger version of these sample spreads (the first three in the book), please click on the images.




Where to now?
Now that you've seen this great book, what would you like to see now?  Please note that as an Amazon Associate, we earn from qualifying purchases.

---
This book is one of the MathStart series books. We LOVE the MathStart series. The stories are funny and cute...and SO effective for teaching the specific math concept being targeted. You can learn more about this great series of books by clicking on the book covers below or the link above.