Lemonade for Sale
a MathStart series book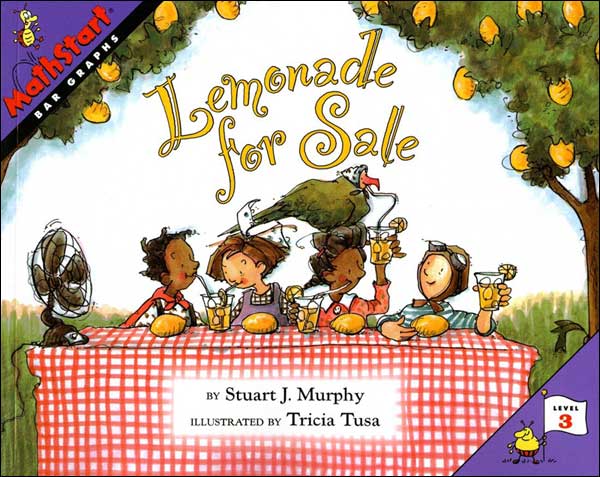 by Stuart Murphy; illustrated by Tricia Tusa

In Lemonade for Sale, four friends start a lemonade business and use graphs to chart their growing sales. Sales are improving until a boy down the street starts a juggling act for money. How will that impact their sales? The friends use a variety of graphs to answer that question.
As in all Math Start series books, a two-page appendix is included that provides additional ideas for using this book for teaching graphing.
Children enjoy making graphs but some have a hard time grasping the WHY of the activity. They focus on the 'picture' itself and miss how the picture is a tool to help people understand data better. This book tackles that problem-- clearly showing how the kids in the story used graphs to help them understand how their stand was performing over time.
Kirkus Reviews said that this book is "a winning way to make some basic concepts and techniques less intimidating." We totally agree!
This book is one of the MathStart series books. Many teachers really like the MathStart series for adding a literacy component to math lessons. (With the time pressures in the classroom, opportunities for cross-curricular activities is always welcome, right?) For the most part, the Math Start stories are funny and cute...and quite effective for teaching the specific math concept being targeted. You can learn more about this great series of books by clicking on the link above.

Reading Level for Lemonade for Sale:

Interest Level: Grade 1-3
DRA Level: 28
Lexile Level: 380L
Grade Level Equivalent: 2.5
Guided Reading Level: L
Read-Aloud vs. Individual Reading:
For kids in first grade and the early part of second grade, this book will need to be a read-aloud rather than for individual reading, as children generally do not read on the reading level (difficulty level) of this book until the middle of second grade. The majority of third graders should be able to read this book independently.

See Inside Lemonade for Sale:

Below are three spreads from inside this cute graphing book. You can see that graphing is integrated into the storyline right from the start. And another sample spread featuring graphing is shown at the top of this page (small version).  We really love the illustration style. In fact, this book made us curious to check out other books illustrated by Tricia Tusa and we were delighted to see there really are quite a few to choose from. :)