Just a Second:  A Different Way to Look at Time
by Steve Jenkins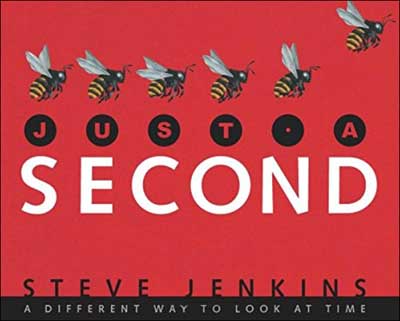 Just a Second:  A Different Way to Look at Time
by Steve Jenkins
This is another packed, brilliantly illustrated title by Steve Jenkins, this one exploring time in the framework of the natural world--from seconds all the way up to the history of the universe.

In a starred review, School Library Journal called it "eye-catching and mind boggling" and promises that "teachers will find good jumping-off points here for math, science, and history discussions."

Interest Level:     3rd grade and up

Below are sample pages from inside Just A Second.


Where to now?
Now that you've seen this great book, what would you like to see now?  Please note that as an Amazon Associate, we earn from qualifying purchases.

We LOVE books by Steve Jenkins, and so do kids. He's definitely in our top 10 list of favorite children's books writers/illustrators!  If you don't already know his work, check him out but clicking on the book covers below or the link above.