Jurassic Poop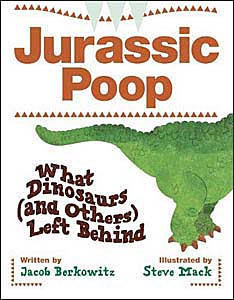 Jurassic Poop: What Dinosaurs
(and Others) Left Behind
written by Jacob Berkowitz
illustrated by Steve Mack
Children will be shocked and amused by the premise of this book on dinosaurs for children -- that dinosaur doo-doo is actually a priceless artifact, full of information about how dinosaurs lived, what they ate, and more.
This book is educational, but takes a quirky approach to the material.

Quill & Quire called it "superbly organized, and written in a zippy, engaging style that balances fact with fun."  Although the cover may give the impression that this is a read-aloud for young kids, it's actually for middle grades and is comprised of very full spreads. 
An American Institute of Physics Science Writing Award winner!


Interest Level:   Grade 3 +

Below are sample pages from inside Jurassic Poop: What Dinosaurs (and Others) Left Behind -- written by Jacob Berkowitz and illustrated by Steve Mack.



Please note that if you purchase an item from Amazon, they give us a small referral fee. And that helps us cover the costs of this website.


---