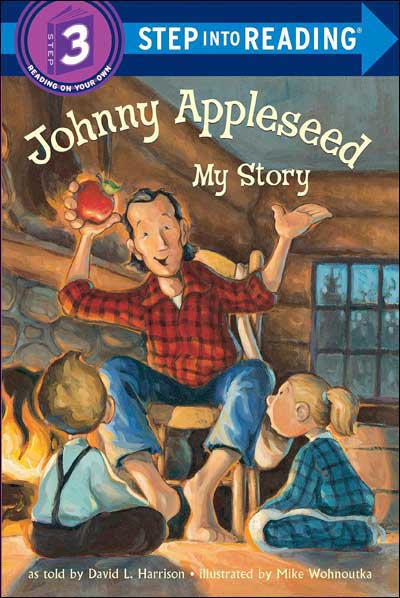 Johnny Appleseed: My Story

Step Into Reading: Level 3 Book
by David Harrison
illustrated by Mike Wohnoutkha

Looking for a Johnny Appleseed book that young students can read themselves? This is a great choice. Early readers learn how 'Johnny Appleseed' started planting apple trees as well as other the stories about his life.  
And since John Chapman was know to be a real storyteller, author David Harrison has him telling his own story to a pioneer family who has welcomed him into their log cabin for the night. 
Wohnoutkha's accompanying illustrations "capture the beauty of the landscape, the innocent goodness of the people, and the slightly larger-than-life persona of Johnny Appleseed." (Publisher's Weekly)


Reading Level for Johnny Appleseed Step Into Reading:
Interest Level: Kindergarten - Grade 1
DRA Level:  18
Lexile Measure: 200L
Grade Level Equivalent:  2.1
Guided Reading Level:   K 
Read-Aloud vs. Individual Reading:
This is intended for kids to read themselves, BUT for most kids in the intended audience, this book will need to be a read-aloud rather than for individual reading, as children generally do not read on the reading level (difficulty level) of this book until second grade. 

See Inside Johnny Appleseed Step Into Reading:
Here are two sample spreads from inside this book, showing the illustration style as well as the amount and difficulty of the text on the pages: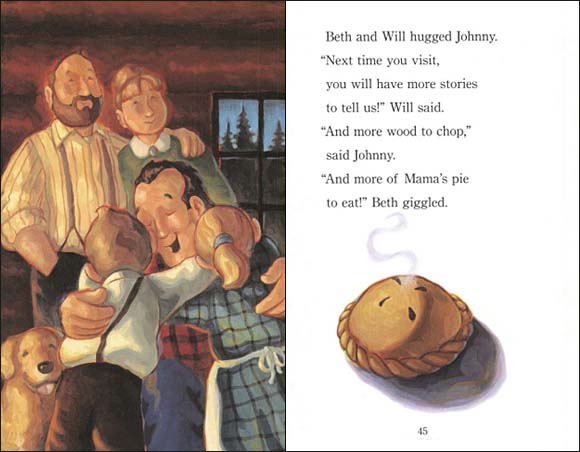 Lesson / Activity Ideas for Johnny Appleseed Step Into Reading:

We found two Pinterest boards that are FULL of fun, cute, educational activities to do about Johnny Appleseed.  You could use this book as a lead in, to teach kids about John Chapman and his life, and then do one of the many activities that are listed on these curated lists:
Johnny Appleseed Activities list #1


Where to now?
Now that you've seen this great book, what would you like to see now?  Please note that as an Amazon Associate, we earn from qualifying purchases.

You may also want to check out other books in the Step into Reading series. To learn more about these books, click the book covers below or link above.