John, Paul, George and Ben
by Lane Smith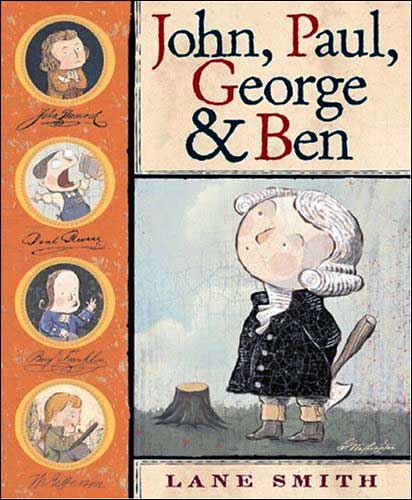 John, Paul, George and Ben
The illustrator from The Stinky Cheese Man has created an imaginative title with fictional childhood stories about a few of the founding fathers--each coinciding with a known personality trait:
- John Hancock is depicted as bold (due to his big signature on the Declaration of Independence)
- Paul Revere is depicted as loud (due to his role warning residents that 'The Redcoats are coming')
- Ben Franklin is depicted as clever (as he is known for his witty phrases and amazing inventions)
- George Washington is depicted as honest (as he is known for admitting that he cut down the cherry tree)
- Thomas Jefferson is depicted as independent (as he is known for his writings on liberty)  [and... Thomas Jefferson is not included in the title of this book because he is so independent that he was off doing something else at the time.]
 
Younger children may not get the humor, since most children will not have the foreknowledge that these men are known for these particular traits. The teacher could solve this by talking about the men ahead of time. At the end of the book, there is a spread with one or two sentences about each of the five men plus formal portraits. Before reading about section, turn to the back and read the appropriate summary. This will give away the joke a bit, but...hey, at least they will understand it. :)

As one would expect from Lane, this book is off-beat and quite funny! School Library Journal suggests you "exercise your freedom to scoop up this one."

Reading Level for John, Paul, George, and Ben:

Interest Level:  Gr. 1-5
DRA Level:  38
Lexile Measure: 660L
Grade Level Equiv: 3.5
Guided Reading: P

Read-Aloud vs. Individual Reading:
For kids in first, second, and third grade, this book will need to be a read-aloud rather than for individual reading, as children generally do not read on the reading level (difficulty level) of this book until the end of third grade. The majority of fourth and fifth graders should be able to read this book independently.

Awards and Accolades for John, Paul, George, and Ben:
School Library Journal Best Book of 2006
New York Times Best Illustrated 2006
Horn Book Magazine Fanfare Award  2006

See Inside John, Paul, George, and Ben:
Below are sample spreads from inside this book.   We love the quirky illustration style.  So funny. :)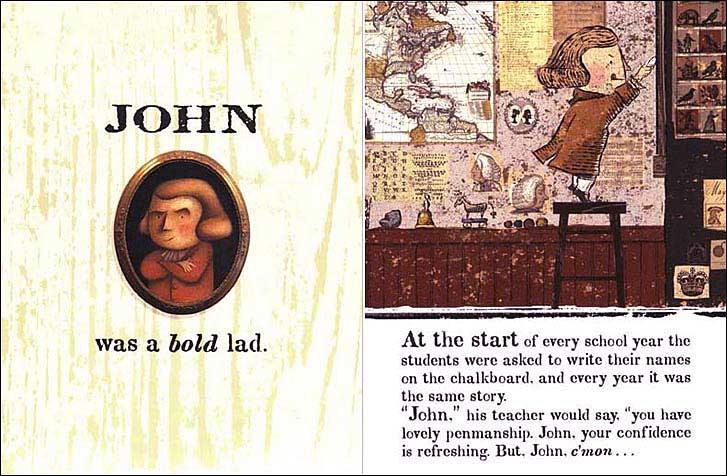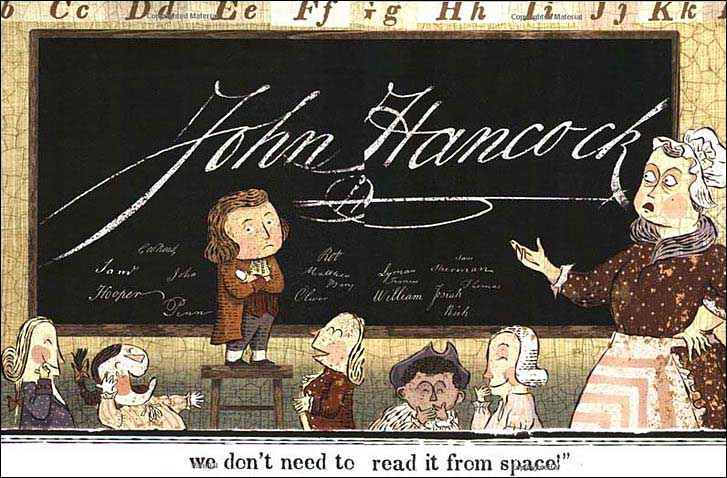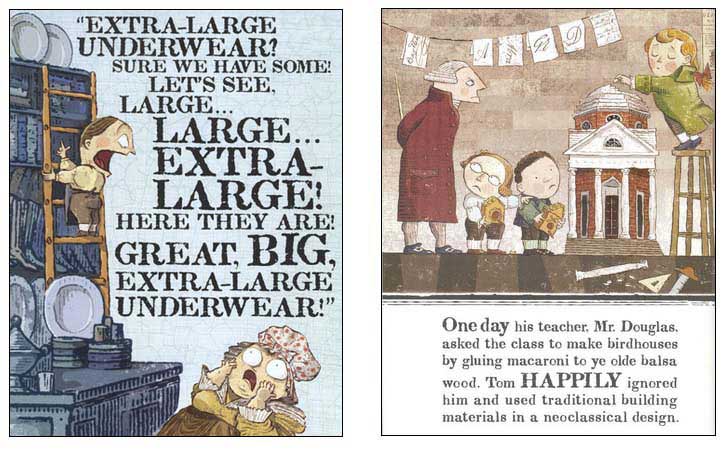 Looking for books on George Washington?  Check out our

sale kids books on Lincoln & Washington

Just $2.75 each!  Check out our list of great kids books about Lincoln and Washington. We often have this fantastic book in our inventory.  If we don't currently have this exact book today, there are likely lots more good books to choose from...all at 50% or more off retail prices!

return to list of George Washington books or American History books or President's Day books