It's About Time!
a MathStart series book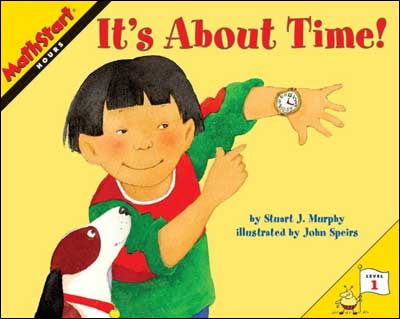 by Stuart Murphy; illustrated by John Speirs
In It's About Time, children learn how to read clocks as they watch a young boy engaged in various activities throughout the day (including dreaming during the nighttime hours).
Each page includes a cute pencil drawings, a short line or two of text, and an analog and digital clock showing the time. The storyline is very simple--it's just 'a day in his life'--but for children learning to read clocks, it can be quite helpful. As with all MathStart books, the final spread includes suggested activities to use with this book as well as other activities for teaching children how to read clocks.  

Interest Levels:   Preschool - 2nd grade
Below are the first few spreads from inside It's About Time.  All illustrations follow this same format--a cute illustration showing what the little boy does at various times during the day, paired with short text and an analog and digital clock showing the time of day.  It's a simple concept, but effective too!




Where to now?
Now that you've seen this great book, what would you like to see now?  Please note that as an Amazon Associate, we earn from qualifying purchases.

This book is one of the MathStart series books. We LOVE the MathStart series. The stories are funny and cute...and SO effective for teaching the specific math concept being targeted. You can learn more about this great series of books by clicking on the book covers below or the link above.