Is a Blue Whale the
Biggest Thing There Is?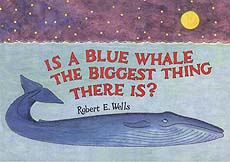 by Robert E. Wells
Wells of Knowledge Science series

This book takes measurement and comparison to the extremes of imagination, starting with the question "Is a blue whale the biggest thing there is?", progressing through larger and larger items, and ending with the universe! 

This is a thought-provoking book for teaching measurement lesson plans about the relative measurements of very large items.
It's also a great book to help children start to conceptualize how enormous the universe is! This book was certainly not created for the purpose of teaching graphs or measurement, but it is full of interesting data that lends well to graphing and measurement activities. School Library Journal agrees, saying this book "would be useful to demonstrate how to make beginning graphs in a fun, accessible way."

In its review, Kirkus  wrote "Lively ink-and-watercolor illustrations brighten the pages of this accessible concept book."  We agree.
Reading Levels
Interest Level:  Gr. 2-4         Grade Level Equiv:  5.6         Lexile Measure: 850L


See Inside
As you can see, readers learn a bit about blue whales (the full page below) as well as seeing a fun and clever discussion of other large objects relative to the size of a whale (ie...the spread below is building up to a comparison between whales and other huge objects like mountains and the universe!)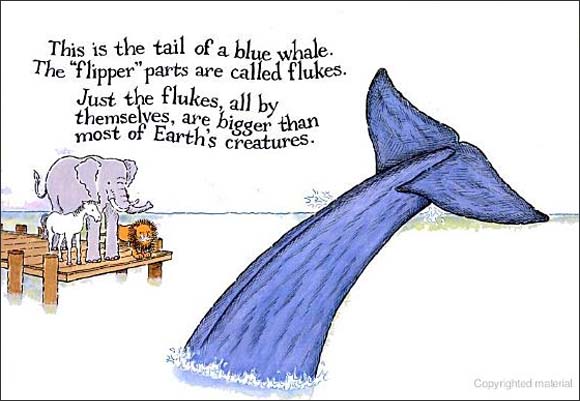 Where to now?
Now that you've seen this great book, what would you like to see now?  Please note that as an Amazon Associate, we earn from qualifying purchases.

---
You should check out other books in the Wells of Knowledge science series. They are very well done, each answering lots of those common childhood questions or 'wonderments'!  To learn more, click on the book covers below or link above.