Peek Inside
Here are some sample pages from inside

Is There Really a Human Race

? -- showing the
fun, energetic cartoon illustrations and giving an idea of the amount of text on each spread.
For example, the spread below reads:


"Is the race like a loop / or an obstacle course? / Am I a jockey, / or am I a horse? /
Is there pushing and shoving / to get to the lead? / If the race is unfair, / will I succeed?"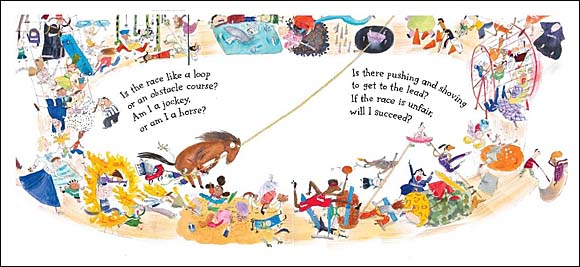 Where to now?


buy from Amazon.com
--or--
return to books on ambition
Below is one of the end papers, which is such a hoot that we're including it here. This is the 'world yearbook' showing different kids and what they grow up to be. The kids depicted and their stated occupations are wonderfully non-stereotypical and unique!