Inside Your Outside: All About the Human Body
Inside Your Outside: All About the Human Body
(Cat in the Hat Learning Library)
by Tish Rabe and Aristides Ruiz
We've had several teachers write in and strongly encourage us to add this book to our list of the best kids human body books. We had previously held off doing so because, as School Library Journal rightly points out in their review, this book contains some inaccuracies (ie: the heart is not the largest muscle in the body, food does not stay in the stomach for three days...)
We recommend you take a look for yourself using the Amazon.com look inside feature. In general, this series is quite effective for teaching complicated science topics to children, so we've decided to go ahead and include here. If you do decide to use this title to teach kids human body lessons, you'll want to take time to correct the inaccuracies.
Reading Levels: 
Interest Level:  Preschool - Grade 3   /   Lexile Measure:  660L

Sample Pages:  Below are sample spreads from inside this book. We do really like the illustrations, and we've notice that when we've read books from this Cat in the Hat science library, our kids are super engaged because of the Seuss-factor.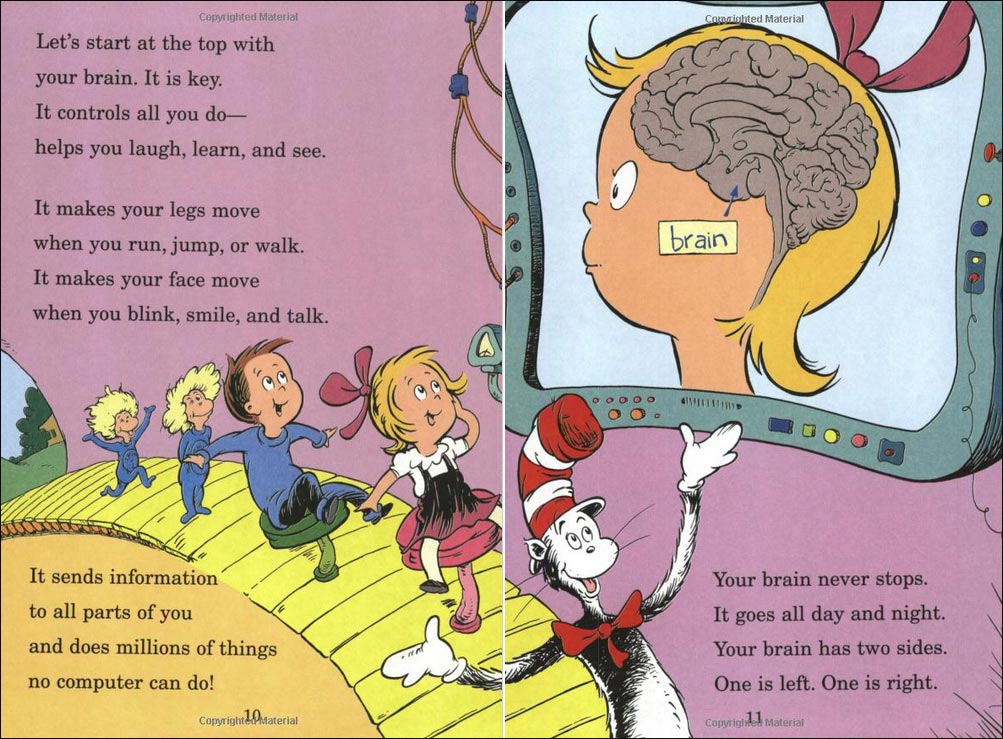 Where to now?
Now that you've seen this great book, what would you like to see now?  Please note that as an Amazon Associate, we earn from qualifying purchases.