In My Hands: Memories
of a Holocaust Rescuer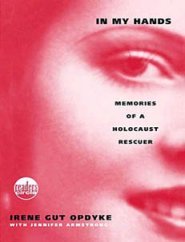 In My Hands: Memories of a Holocaust Rescuer
by Irene Gut Opdyke
This autobiography stands out among the many WWII memoirs. Opdyke portrays her experiences risking her life daily for years to save Jews in her native Poland--from leaving food near the walls of the Jewish Ghetoo to helping them hide out from Nazi forces. Forced to work for the German army, she made excellent use of every opportunity to help the Jews. The impact of her story is extremely powerful, for she experienced more horror and evil then most people ever see in a lifetime.
This book has won numerous children's book awards, including the American Library Association's 10 Best Books for Young Adults, Book Sense's Top Ten Pick, Publisher's Weekly's Best Books of the Year List, and Booklist Editors Choice Book List.
Interest Level:  Grade 5 and up       
Lexile Measure:  890L

In a starred review, School Library Journal said, "No matter how many Holocaust stories one has read, this one is a must."  And Publisher's Weekly ended with the promise that "readers will be riveted and no one can fail to be inspired by Opdyke's courage."  We agree. This title should be at the top of your recommended reading list if you are teaching about World War II and the Holocaust or if you have a student or children interested in the era.

Please note that if you purchase an item from Amazon, they give us a small referral fee. And that helps us cover the costs of this website.