If You Were an Apostrophe
(Word Fun series)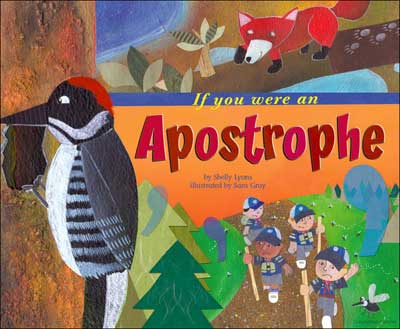 by Shelly Lyons; illustrated by Sara Gray
This Word Fun title covers the uses of apostrophes (possessive, contractions, usage in o'clock...), plus it clarifies the difference between its and it's, which I'm sure EVERY teacher will appreciate! Throughout the book, the apostrophes are extra large to help them stand out.
There's a Word Fun book called If You Were a Contraction and if we had to choose between the two, we'd pick that one for younger children and this one for older children (as this title covers a lot of ground, possibly too much for young kids).

Reading Levels
Interest Level:   Grade 2 - 4
Lexile Measure: 650L

Below are the first two full spreads from inside this book--showing the illustration style and amount of text. The spread just below appears early in the book and covers singular possessive usage of apostrophes.



In this next sample spread, the text reads: "If you were an apostrophe, you would show belonging. You would show that something belongs to a noun. A noun is a word that names a person, place, or thing. /  A mosquito's buzzing bothers a scout on the park's woody trail. /  The boy's loud SWAT scares the mosquito away."


Where to now?
Now that you've seen this great book, what would you like to see now?  Please note that as an Amazon Associate, we earn from qualifying purchases.

You may also want to check out other books in the Word Fun series. It's a very consistently good series.