If You Were an Adjective
(Word Fun series)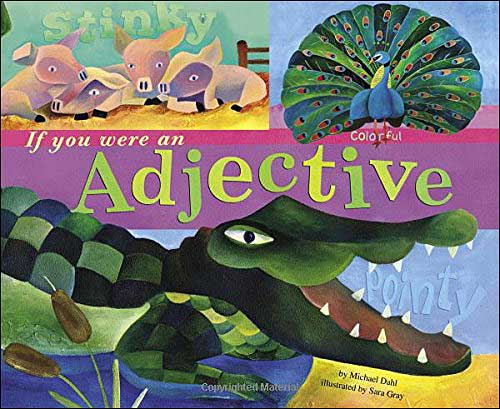 by Michael Dahl; illustrated by Sara Gray
a Word Fun series book

If You Were an Adjective is a fun and accessible book perfect for introducing adjectives. Simple explanations and definitions of adjectives are paired with example sentences illustrated in vibrant, kid-friendly scenes. For example, in the above spread, the text reads: "If you were an adjective, you would tell us how a person, place, or thing looks." And then the example provided reads: The SLENDER swimmer snaps a photo of the ENORMOUS whale in the DEEP, BLUE water."

In its review of the book, Booklist said "the art is a delight, and the peppy prose...helps the lesson slide down easily."  As we've said on a few other pages, we are fans of this series and eager to let other teachers know about these books.
This book is part of the Word Fun series, which covers a range of language arts and math topics. Great series!
Interest Level: Gr. 1-3            Lexile Measure: 610L

Below is a sample spread from inside this book. It's the third spread -- this one aimed at teaching how nouns and adjectives work together. The text on the left reads: "I you were an adjective, you would work side by wide with nouns. A noun names a person, place, or thing. As an adjective, you would be busy describing nouns. / An elephant is a noun."

The right side of the spread then illustrates the explanation just given on the left side. It reads: "If you were an adjective, you would tell us something about the elephant. / The GRAY elephant is GIGANTIC and WET. The SPARKLING water cools down the HOT elephant."


Where to now?
Now that you've seen this great book, what would you like to see now?  Please note that as an Amazon Associate, we earn from qualifying purchases.