If I Never Forever Endeavor




by

Holly Meade



What It's About
A fledgling teeters at the edge of his nest in a gorgeously illustrated tale sure to resonate with anyone facing a rite of passage, change, or challenge.  (Full summary coming next).

Reading Levels
Interest Level:  Pres-Gr. 3       DRA Level:  *
Reading Level: age 4-8          Lexile Measure:  *
Grade Level Equiv: *               Guided Reading:  *

* We're missing some reading stats. If you know them, let us know.

Peek Inside
Below are sample spreads from inside If I Never Forever Endeavor.  In case the text is too small on our little samples below, here's what they say:

Below:  "If I did endeavor, and found my wings clever, I could see the world!"
Top Rt: "But, look there.. if I don't fly, I won't know what it is to swoop low or soar hight, or what
              it's like to pluck a sweet bug from the sky."
Btm Rt:  "Or float alongside a friend. Sigh."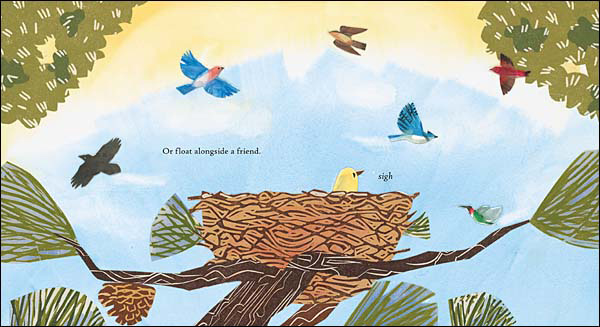 Please note that if you purchase an item from Amazon, they give us a small referral fee. And that helps us cover the costs of this website.

---