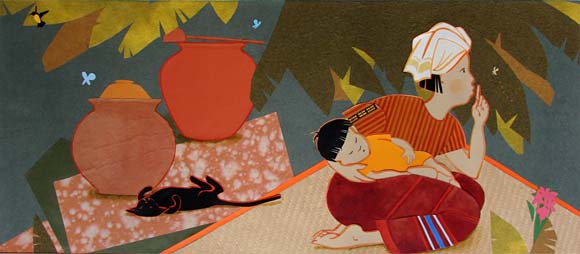 Hush!  A Thai Lullaby
by Minfong Ho and Holly Meade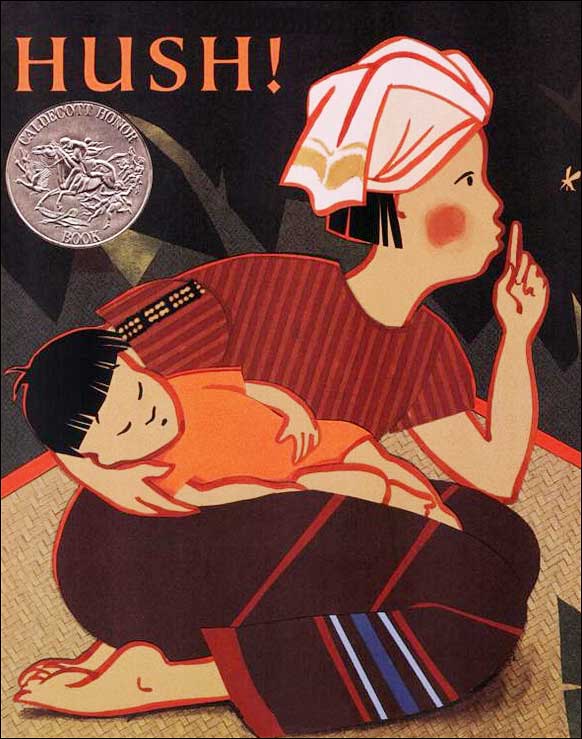 A charming, rhyming tale of a mother quieting noisy animals so her child can sleep. She finds out which animal is making each sound--from a mosquito's buzz to an elephant's shriek--and after they're all quiet, she falls asleep, just as the child is waking up.
This book has a lot going for it. The cut paper illustrations are vibrant and darling, the rural Thailand setting is certainly unique for children's books, and the rhythmic lullaby is delightfully packed with fun onomatopoeia! For example, pigs don't say 'oink, oink' in this book; they say 'uut, uut'. Ducks don't say 'quack, quack'; they say 'ghap, ghap'... This would be a fun book to pair this with Prap's Animals Speak or Weinstein's Everywhere the Cow Says Moo.
Awards Won
Caldecott Honor Book 1997
American Library Association Notable Children's Book 1997
Horn Book Magazine Fanfare Award 1997

Reading Levels
Interest Level: Preschool - Kindergarten
DRA Level: 16
Lexile Measure: 600L
Grade Level Equivalent:  3.9
Guided Reading Level:  J

Below are sample spreads from inside this book. Such striking illustrations.



And we love the bouncy, rhythmic text in this book. For example, the text in this spread reads:  "White duck, white duck / don't come beeping. / Can't you see that / Baby's sleeping? / White duck, white duck, / don't you cry, / My baby's sleeping / right nearby."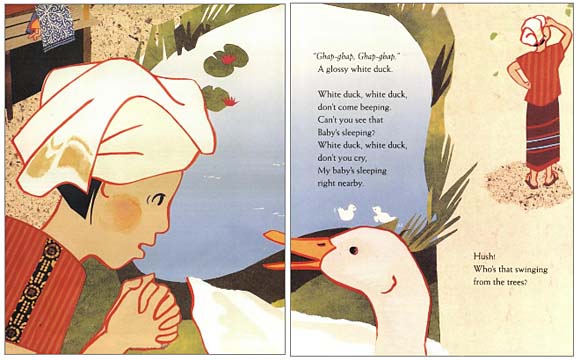 Where to now?
Now that you've seen this great book, what would you like to see now?  Please note that as an Amazon Associate, we earn from qualifying purchases.


This book was an honoree for the prestigious Caldecott Medal for best children's books. Check out our list of all the Caldecott winners.