How to Get Rich in the California Gold Rush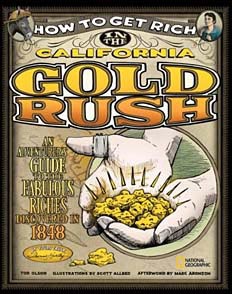 Subtitle: An Adventurer's Guide to the Fabulous Riches Discovered in 1848
by Tod Olson
illustrated by Scott Allred

This lighthearted title posits itself as a 'guide' on the gold rush, written by a prospector who left his home for riches out west. The design is fabulous-- full of real historical images and posters and postcards, which are paired with detailed and humorous illustrations, all of which are done with an old-timey appeal.
This title got *starred* reviews from School Library Journal and Booklist.
School Library Journal ended their review by saying, "Richly illustrated with a mix of historically authentic lithographs and...drawings, this book is a colorful and lively introduction to the period for young history buffs."


Interest Level:  Grade 5+

We are working on getting sample interior pages for this book. Check back soon!

Where to now?
Now that you've seen this great book, what would you like to see now?  Please note that as an Amazon Associate, we earn from qualifying purchases.