How Tall, How Short,
How Far Away


by David Adler and Nancy Tobin
How Tall, How Short, How Far Away is a fun kid-friendly introduction to the history of measurement, from ancient Egyptian cubits and progressing to Roman paces, the English inch-pound system, and the standard metric system. Throughout, the text engages the reader with hands on activities like measuring your height, 'pacing' your neighborhood, making a metric ruler, and determining distances in kilometers.
Due to the amount of activities in the text, this title could be used over many class periods!  We agree with Booklist, who called it "a good basic book for children who are learning measurement using either the customary or metric system or (more likely) both."

A National Science Teachers Association Outstanding Book for 2000!


Reading Levels
Interest Level:  Gr. 1-4              DRA Level:  24                   Lexile Measure: 850L
Grade Equivalent:  2.0             Guided Reading:  M


Peek Inside
Below are sample pages from inside the book, demonstrating the interactive nature of the text. These spreads follow a discussion of measurement methods in ancient Egypt. For example, the text of the first spread reads, "Now ask a friend to measure your height in cubits, spans, palms, and digits. If her arm is shorter than yours, her measure will be different from yours."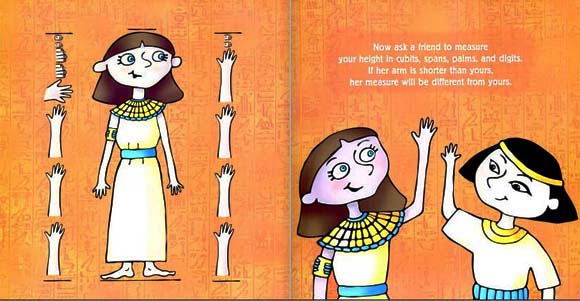 Where to now?
Now that you've seen this great book, what would you like to see now?  Please note that as an Amazon Associate, we earn from qualifying purchases.

---

You may also want to check out other math books by David Adler. He has a knack for making learning books that are both fun and educational!  To see a list of his books on Amazon, click the covers below or his name above.


Or see other books on our page of best books for teaching measurement