How Many Bugs
in a Box?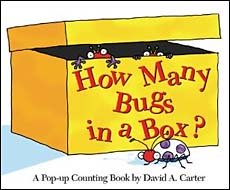 A Pop-Up Counting Book
by David Carter
A pop-up counting book of comical bugs that literally burst out of the box with each turn of the page. Each spread features a different number of bugs, making this a fun book for teaching the numbers 1-10. The wow factor varies quite a bit from spread to spread, but it's still a fun experience nonetheless.
Note: The playful bugs are Carter's own creations (ie: 'saw bugs' that have saws for noses) so don't buy this book if you are looking for science lessons on bugs!  :)


Interest Levels        Kindergarten - 2nd grade    


Peek Inside
Below is a sample spread from inside this book. Pop-up books are always tricky for using with children (ie: without adult supervision, guess how long those little swords will remain intact...?) This is definitely a book you will want to set aside for special viewing, but it's so fun and silly, your kids will oooh and aaaaah and giggle.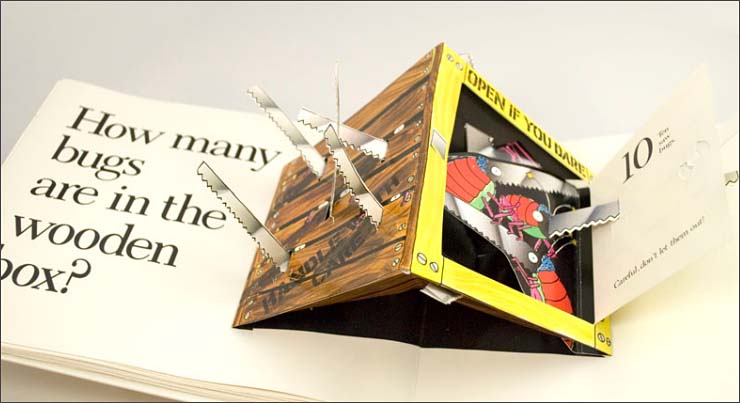 image source:  http://library.bowdoin.edu/arch/exhibitions/popup/colors-and-counting.shtml
Related Activity
A pair of creative Kindergarten teachers have created a book template to do with your kids after reading this adorable book. To learn more about this book, you fill find more details on their Pinterest page by clicking here.

Where to now?
Now that you've seen this great book, what would you like to see now?  Please note that as an Amazon Associate, we earn from qualifying purchases.

---
You may also want to check out other pop-up books by David Carter. To learn more about these books, click on the book covers below or the link above.