How Kind! by Mary Murphy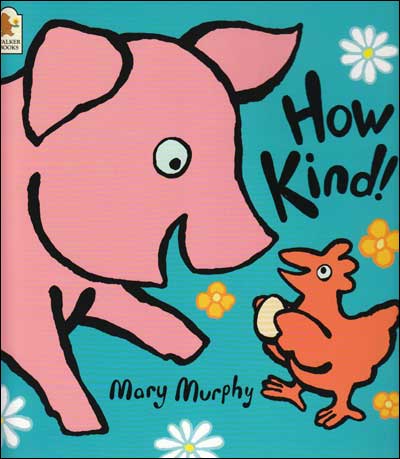 A simple, cheery tale of how kindness is contagious, using cute farm animals. In the story, a pig is kind to rabbit, who in turn is kind to a cow, and so forth. Even very young kids will 'get' the simple message that kindness begets kindness.
 In their review, School Library Journal said "boldly inked outlines filled with bright washes of color perfectly capture the friends' joyous expressions."
(The publisher recommends this book up to second grade, but we think it's probably pushing it for 1st grade so we've lowered the range a bit.)


Interest Level:   Preschool - 1st grade


Here's a spread from inside How Kind:
Where to now?
Now that you've seen this great book, what would you like to see now?  Please note that as an Amazon Associate, we earn from qualifying purchases.



You may also want to check out other books by Mary Murphy, such as the adorable ones shown below. To learn more, click on the images below  or the link above. :)