How Do You Know
What Time It Is?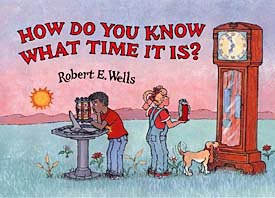 by Robert Wells
Wells of Knowledge Science Series
This "terrific teaching tool" (School Library Journal) provides an age- appropriate depiction of the history of measuring time--from simply observing the movement of the sun to using shadow stick clocks to our modern atomic and quartz clocks.

The book also covers time zones, meridians, and more.  It actually verges on covering too much information for one audience, but it's still a really interesting, good read that will leave kids feeling like questions have been answered!

Reading Levels
Interest:  Grade 2-5             DRA Level: 20                 Lexile Measure: 870L
Grade Equivalent: 4.3        Guided Reading: L


See inside
Sample spreads from inside How Do You Know What Time It Is?:




Where to now?
Now that you've seen this great book, what would you like to see now?  Please note that as an Amazon Associate, we earn from qualifying purchases.

---
You should check out other books in the Wells of Knowledge science series. They are very well done, each answering lots of those common childhood questions or 'wonderments'!  To learn more, click on the book covers below or link above.