Hope Was Here
by Joan Bauer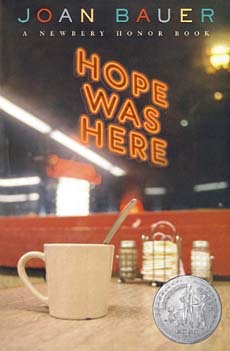 Sixteen year old Hope has lived with her aunt Addie ever since her mother abandoned her. When Addie gets a new job as a diner cook in Wisconsin, Hope is uneasy about the move, but before long, she has not only settled into the small town and her wait job as a waitress, she's also involved in the town's mayoral race in support of the owner of the diner, G.T.
"Packed with funny lines, and peopled with interesting and quirky characters." (Kirkus Reviews)
This book won the Newbery Honor for 2001!
Reading Levels:  Interest Level:  Grade 6-8   /   DRA Level:  60   /   Lexile Measure:  710L   /   Grade Equivalent:  5.1   /   Guided Reading:  W
Book Covers:  There are three different covers for this book. We love the pie version! :)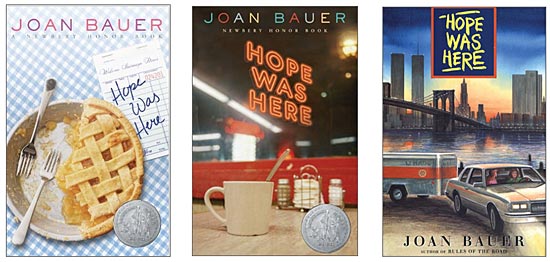 Where to now?
Now that you've seen this great book, what would you like to see now?  Please note that as an Amazon Associate, we earn from qualifying purchases.
This book was an honoree for the prestigious Newbery Award for best children's literature. Click to see the full list of Newbery Award Winners.